Two-thirds of Scots drive to work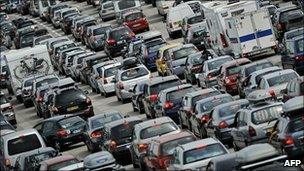 Most Scots still drive to work, with two-thirds using a car or van to get to their destination, new figures show.
And government-published transport figures for 2009 said half of children walk to school, with the proportion of those who cycle at only 1%.
At the same time, journeys on ScotRail trains increased by 0.7% to almost 77 million compared with the previous year - up 20% since 2004/05.
And there was a slight fall in bus journeys, down 0.8% to 493 million.
The government said it was committed to getting more commuters out of their cars, but opposition parties said more needed to be done.
The Scottish government has embarked on a drive to improve public transport in Scotland, including overseeing the £235m project to reopen the rail line between Edinburgh and the Scottish Borders.
And Last June, MSPs passed landmark legislation to help Scotland tackle the threat of climate change, with a target for a 42% cut in greenhouse gas emissions by 2020, rising to 80% by 2050.
A spokesman from government agency Transport Scotland, said: "While overall traffic levels have dropped slightly, we continue to encourage the use of more sustainable forms of transport.
"We are committed to providing the Scottish people with real alternatives to the car and are investing record levels in public transport, looking beyond the traditional and towards the innovative in our efforts to encourage people to make that switch to more sustainable modes of transport."
But Lib Dem transport spokeswoman Alison McInnes said the SNP had cancelled key funding streams to bus operators, adding: "This pull away from public transport is jeopardising progress made on tackling climate change."
And the Tories' Jackson Carlaw said fewer people would travel to work by car only when "comprehensive, reliable and attractive" public transport alternatives were in place.
He added: "Commuters are not daft and only then will they be persuaded to make a sustained change."
Elsewhere, the figures showed the number of air passengers in 2009 fell by 1.9 million to 22.5 million compared with the previous year, while ferry patronage increased by 4% last year, to 5.9 million.
Related Internet Links
The BBC is not responsible for the content of external sites.