'Pause' in Scottish housing market recovery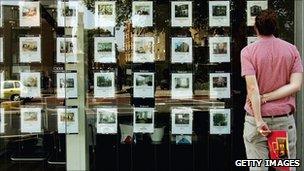 The Scottish housing market's recovery from the recession has "paused", according to a new report.
The Scottish House Price Monitor from Lloyds TSB Scotland suggested the average price of a home fell 2.9% in the three months to 31 July 2010 to stand at £159,217.
However, annual underlying figures showed house prices up by 0.8%.
The number of house purchases rose by 20% on the previous quarter and by 20% on the same period in 2009.
The survey said although the number of housing transactions in the Scottish market had increased in recent months, the figure was still around half pre-recession levels.
Meanwhile, underlying figures suggested house prices in Aberdeen rose by 11% between July 2009 and July 2010, with Dundee not far behind on 7.7%. Prices in Glasgow, however, fell by 6.7%.
Prof Donald MacRae, chief economist of Lloyds Banking Group Scotland, said: "The number of housing sales has increased for four consecutive months from the low point of February this year.
"The rise in Scottish house prices identified at the end of 2009 and spring of this year has stopped and has partially reversed.
He added: "However, activity has picked up from the low levels of the winter months. It is clear that recovery from recession in the Scottish housing market has paused."
Related Internet Links
The BBC is not responsible for the content of external sites.