Survey finds most working parents want more family time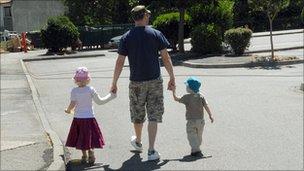 Most working parents in Scotland would like to work less and spend more time with their children, a new survey has found.
Almost two thirds of those questioned believed their work/life balance was "not ideal", said Parenting Across Scotland.
They found that 64% of parents thought their family life was losing out because of work.
Nearly half of parents also said it was harder to pay bills than a year ago.
The difficulty was a particular issue for single parents and those with a disability or a disabled child.
However, the study found that the figure was substantially less than a similar survey in 2008 which found 72% of parents experienced difficulty paying their bills.
Of the thousand adults surveyed by Ipsos MORI, 77% of those who had children under the age of five said they wanted to work less and spend more time at home.
The results also suggested that grandparents were increasingly taking over childcare duties to support working parents.
This was the main childcare arrangement for a third of those questioned.
Most parents (72%) said they relied on an informal network of families and friends to care for their children rather than more expensive services such as private nurseries.
The study also found that many parents had cut back their spending to cope with economic uncertainty.
Almost a half (49%) said they had cut back on family holidays, while 42% said they had reduced money spent on food shopping.
More than a third said they had reduced family day trips and 37% cut the amount they spent on domestic energy consumption in a bid to save money.
Clare Simpson, project manager at PAS, said: "In previous surveys commissioned by PAS, parents have told us that they find raising children to be extremely challenging.
"Many parents now have no option but to go out to work and it is clear that this is putting pressure on parents who are having to choose between earning and spending time with their children."
Related Internet Links
The BBC is not responsible for the content of external sites.