Retailers 'concerned' over tobacco display ban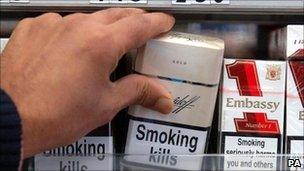 New laws banning shop tobacco displays in Scotland will increase black market trade, an industry survey has claimed.
The Tobacco Retailers Alliance study said 56% of shopkeepers believed the move would increase contraband sales.
The study by the alliance, which has 26,000 UK members, came after MSPs passed the law in January.
Ministers said the move would break the link between youth smoking and related long-term problems by making tobacco less attractive.
The measure is part of the Tobacco and Primary Medical Services Act, which also bans cigarette vending machines and introduces a registration scheme for retailers.
The survey by the Tobacco Retailers Alliance, which strongly opposed the display ban, also claimed 49% of shopkeepers said they are aware of smuggled tobacco being sold in their area, while 38% knew of smugglers supplying under-age smokers.
The group's Scottish spokeswoman, Fiona Barrett, said: "It's through friends or family that the majority of under-age smokers get their tobacco, so if the government made it a crime for people over 18 to buy tobacco to give to those under 18, while at the same time putting more focus on tackling tobacco smuggling, youth smoking rates would be reduced."
But Sheila Duffy, of anti-smoking group Ash Scotland, said "The tobacco industry has tried to divert attention away from the important health issues at stake by exaggerating fears based on unfounded claims.
"There is no reason to think that adult smokers who currently buy their product legally from responsible retailers will suddenly switch to illegal sources because the product is no longer on display."
The display ban comes into force next year for large retailers and in 2013 for small shops.
Specialist tobacconists are exempt from the ban, while displays will be permitted in cash and carry and duty-free stores if they are confined to a secluded area.
MSPs have already banned smoking in public places and raised the age for buying cigarettes to 18.
Related Internet Links
The BBC is not responsible for the content of external sites.