Call to review Scottish prison drug testing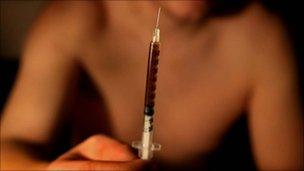 Scotland's chief prisons inspector has called for a review of drug testing for inmates when they enter and leave jail.
Brigadier Hugh Monro said current procedures did not provide an accurate picture of drug taking in jail.
His comments came in an inspection report into Glenochil Prison, Stirlingshire.
The Scottish Prison Service described the number of prisoners testing positive for illegal drugs when released as "relatively low".
In his report, Brigadier Monro said three prisons did not test inmates on arrival as they did not receive prisoners straight from court.
And he said the current testing process was "insufficiently sophisticated to provide governors with an accurate picture of drug taking within their prisons".
On Glenochil Prison itself, Brigadier Monro said general conditions at the jail, which is undergoing major refurbishment, were good, adding: "Glenochil is a safe prison with low levels of violence and particularly good staff/prisoner relations."
The inspector also called on prison bosses to examine the length of time prisoners were waiting to gain access to violence prevention programmes.
A prison service spokesman welcomed the findings on Glenochil, and said it was not complacent about the need to improve the drug testing process.
The spokesman added: "Consequently, by early 2011, SPS will have reviewed the current suite of measures available and seek improvement where necessary."
The spokesman said the violence prevention programme was "seen as a successful initiative which positively addresses violent behaviour".
He added: "Consequently, demand is significant and measures are being taken to assess where any bottle-necks in the system may exist.
"In addition, other measures are taken including addressing substance abuse and, in particular, alcohol where the connection with violence is well recognised."
Related Internet Links
The BBC is not responsible for the content of external sites.