Sharp rise in Scottish home loan figures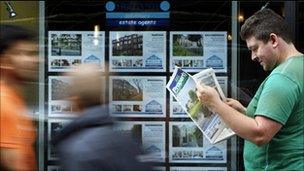 The number of loans advanced to first-time buyers in Scotland rose sharply in the second quarter of this year, according to new figures.
The Council of Mortgage Lenders (CML) said those entering the market took out 4,700 loans between April and June, a rise of 18% on the previous quarter.
The loans amounted to £419m, which was an increase of 27%.
Meanwhile, home movers in Scotland took out 8,000 loans in the second quarter, a rise of 36% on the previous figures.
Overall, loans advanced rose from 9,800 to 12,700- a larger percentage increase than the UK as a whole.
CML also said home movers in Scotland needed to use less of their income to cover their mortgage interest than anywhere else in the UK during the second quarter.
The proportion fell to 9.3%, the lowest share anywhere in the UK since 1996.
The council's data showed "modest signs" of a further easing in lending criteria in the second quarter, with first-time buyer deposits shrinking for the second quarter running - from an average of 21% compared to 23% in the first quarter.
However, CML added that remortgaging activity in Scotland remained "extremely subdued", reflecting a similar trend across the UK.
CML Scotland policy consultant, Kennedy Foster, said: "There have been some positive signs for the housing and mortgage markets in Scotland in recent months with increased activity and reduced deposits and it's encouraging to see that for home movers, mortgage interest payments as a share of income currently cost the least out of any region of the UK."
He added: "But the hard times are not completely behind us yet. Regulatory and funding pressures will affect Scotland as much as the rest of the UK and the upward trend we have seen in the second quarter may not continue to the end of the year."
House building industry body, Homes for Scotland, gave a cautious welcome to the latest data.
Chief executive, Jonathan Fair, said: "Whilst the CML statistics are welcome and encouraging news, they must be seen in the context of what remains a very low base.
"They should not be viewed as the start of a return to more normalised lending levels as this still remains a distant dream."
Related Internet Links
The BBC is not responsible for the content of external sites.