Curriculum for Excellence 'fact files' given to parents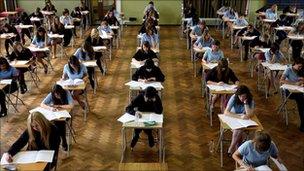 Parents are to be given "fact files" to help them understand controversial changes to the school curriculum.
The files cover the background to the new Curriculum for Excellence, which aims to overhaul teaching for children between the ages of three and 18.
Education Secretary Michael Russell said he hoped the move would answer parents' questions, now that children have returned to school.
Among other things, the curriculum aims to make lessons less prescriptive.
The changes, which are already in place in primary schools, will focus more on teaching methods rather than content.
Changes to assessment and qualifications as well as the overall impact of the new curriculum on secondary education will be detailed at a public meeting in Alloa on Thursday.
Mr Russell said: "The new school term has kicked off and we're now seeing Curriculum for Excellence become a reality in our secondary schools.
"Much has been said about Curriculum for Excellence in recent weeks, but I hope the new clearly-worded fact files we'll be making widely available from today will help answer the questions that we know parents have been asking."
The public meeting at Lornshill Academy, Alloa, starting at 1915 BST, follows one at Inverurie Academy, Aberdeenshire, earlier this month.
A further meeting has been scheduled for 31 August at Balivanich School, Benbecula.
Scottish ministers have given assurances the new curriculum will improve standards, but some teachers, unions and opposition parties have expressed reservations.
The system has been introduced for children in their first year of secondary school, and will be rolled out year-on-year until it is implemented for all secondary years.
Related Internet Links
The BBC is not responsible for the content of external sites.