Fall in supply of new houses in Scotland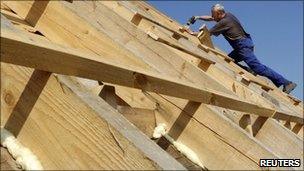 The supply of new houses in Scotland has dropped as the economic crisis hit the construction sector, according to the latest figures.
The number of new builds, refurbishments and conversions fell from 22,368 to 18,836 between 2008-09 and 2009-10.
The number of new houses being completed dropped by 17%, while the number of new starts slowed by 22%.
The government-published figures also saw an increase in affordable homes.
Deputy First Minister Nicola Sturgeon blamed the fall on UK government spending cuts.
Despite the drop which has hit the private sector, a record 8,092 properties were built through the Affordable Housing Investment Programme, equal to a 30% increase over the year.
The statistics also showed an increase, from 337 to 624, in the number of council houses started in the past year.
Ms Sturgeon said: "I am pleased that we are maintaining the delivery of high numbers of affordable homes across the country."
She added: "The recession has clearly had an impact on private sector housebuilding, which has slowed.
"That is regrettable, and, although the UK government has chosen to slash planned funding for Scotland, this government is determined to do all it can to stimulate housebuilding activity."
The Scottish Building Federation (SBF) said the rise in affordable housing figures had helped many building firms through the slump in housebuilding.
But the federation added it was concerned that many local authorities would be making severe cuts in their affordable housing budget this year.
SBF chief executive Michael Levack said: "We need urgent action to breathe life back into that industry so it can pick up the slack as public sector budgets face the axe.
"In this context, I would predict that Scottish housebuilding will continue to face a turbulent time over at least the next 12 months."
Jonathan Fair, chief executive of industry body Homes for Scotland, said: "The industry has had to make huge readjustments but remains committed to providing the thousands of private new homes Scotland's growing population needs and aspires to.
"First, however, the UK government must resolve the continuing difficulties surrounding mortgage lending. If it does not, the social and economic consequences will be dire."
Related Internet Links
The BBC is not responsible for the content of external sites.