Scots teachers 'should give fair trade lessons'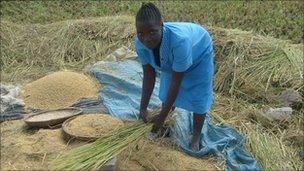 With Scottish pupils now back at school, a charity has called for teachers to include discussion of fair trade in their lesson plans.
Just Trading Scotland (JTS) has produced primary and secondary teachers' resources as part of the new national Curriculum for Excellence (CFE).
The materials, developed in conjunction with Glasgow University's education department, aim to encourage pupils to consider conditions facing farmers in the developing world.
John Riches, a JTS director, said: "It's important that children understand the concept of global citizenship.
"We haven't written lessons for teachers - instead we've told stories about the difficulties facing smallholder farmers in a way which we hope will provoke questions.
"The Curriculum for Excellence gives teachers a huge degree of choice in selecting classroom materials, and we hope that our teachers' tool kit will become well established in Scotland."
JTS imports food and craft goods from Africa, including kilombero rice from Malawi.
The group has challenged schools, as well as churches, colleges and other organisations, to sell 90kg of rice - the amount a Malawian farmer must sell to pay for a year's basic secondary education for one child.
More than 200 groups have participated so far, including pupils at Abronhill Primary School in Cumbernauld.
Deputy head teacher Joyce Shannon said the children had shown great enthusiasm for the project.
"We had a fantastic response from the whole school community," she said.
"Classes cooked with the rice, and we used posters and newsletters to encourage parents to buy it.
"We also organised a fair trade coffee morning with local groups like the British Legion, and every time someone came to the school they left with a bag - we could have set up a stall at the Barras."
Ms Shannon hopes to use the new CFE module - which incorporates the 90kg challenge - across the school and said the fair trade topic offers real educational benefits.
"The focus on one country means that pupils develop understanding and empathy for farmers in Malawi," she said.
The teaching resources explain some of the difficulties faced by Malawian farmers.
A typical farm is about four acres. Poorer farmers are often only able to cultivate around half of their land, and many struggle to grow enough to feed their families.
A lack of capital to purchase seed, fertiliser and farm equipment means that farmers are often unable to produce cash crops.
And they can face an uncertain income due to fluctuating crop prices and unscrupulous buyers who use scales rigged to give false readings, according to the CFE module.
The resources also highlight some of the advantages offered to poor farmers by fair trade.
Fair prices and a predictable income allow them to invest in education, sanitation, better tools and stronger buildings - an important factor in a country prone to severe earthquakes.
JTS receives part-funding from the Scottish government, which has sought to strengthen ties with Malawi.
The country has strong historic links with Scotland dating to 1859, when Dr David Livingstone became the first European explorer to set foot in the region.
Scottish missionaries subsequently flooded into the country, and their influence can still be found in the names of streets and cities including the financial and commercial centre, Blantyre.
In 2005 the Scottish government signed a co-operation agreement with Malawi which emphasised the importance of developing trade and enterprise.
At JST, Mr Riches says that fair trade offers a real opportunity to improve the lives of the citizens there.
"People do pay a little more when they buy fair trade goods," he said.
"But that small amount can make an immense difference to people living in poverty."
Related Internet Links
The BBC is not responsible for the content of external sites.