Jack McConnell to quit as an MSP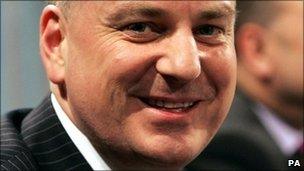 Scotland's former first minister, Jack McConnell, is to quit Holyrood at next year's election.
The MSP for Motherwell and Wishaw said it had been "the greatest privilege" to have served as an elected member since the parliament was established in 1999.
He was recently made a life peer, taking the title Lord McConnell of Glenscorrodale.
The decision will end previous speculation that he was considering a return as Scottish Labour leader.
Before becoming a peer, it emerged at the end of last year Lord McConnell had decided to seek re-election as a candidate in the 2010 Scottish Parliament election.
The MSP and former maths teacher stood down as Scottish Labour leader after his party lost the 2007 Holyrood election to the SNP, but has continued on the backbenches.
Despite being named a future British High Commissioner to Malawi shortly after the election, Lord McConnell never got the chance to take up the appointment, following Labour's UK election defeat.
But he said Scotland's partnership with the African country - one of the world's poorest - would be at the heart of his work.
The former maths teacher and councillor informed members of his local party about his decision to stand down as an MSP.
Lord McConnell said: "I have been an elected representative for most of the last 30 years and it is time to move on.
"I have been involved in national Scottish politics, including the creation of the Scottish Parliament and serving in government, for most of those 30 years, and it is time for others to take Scotland forward now."
Lord McConnell went on: "As I enter the next decade - my 50s - I look forward to new challenges.
"I will continue my work on peacebuilding - across the world post conflict reconstruction is the single biggest development challenge of our time."
The peer said he would also continue to campaign for vulnerable young people and speak up for devolution and diversity in the House of Lords.
He said: "Throughout my career - from the classrooms of Lornshill Academy to Bute House, I have always tried to do the right thing.
"I have made mistakes - we all do - but I believe I have served my country well and will continue to do my best in this new phase of my life.
"It has been the greatest privilege."
Related Internet Links
The BBC is not responsible for the content of external sites.