Teenager sentenced for killing Scots soldier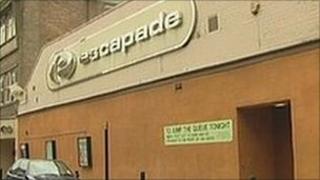 A youth who killed a Scots soldier who was due to be sent to Afghanistan has been detained for two-and-a-half years.
John Flannigan, 17, punched 19-year-old Andrew Gibson in the back of the head during a drunken attack at Escapade nightclub in Darlington, County Durham.
He admitted manslaughter following the attack on 11 December 2009.
Teesside Crown Court heard the guardsman, from Cumbernauld, was hit as "pay back" for punching the teenager minutes before.
The court was shown CCTV footage of Flannigan lashing out with his fist and Mr Gibson falling to the ground.
He hit his head on the dance floor of the club, causing fatal injuries.
Mr Gibson, from Cumbernauld, near Glasgow, was based at Catterick Garrison, North Yorkshire, and was due to return home for Christmas.
He was on a last night out with friends before heading home to his familyin Scotland.
The soldier had been due to be posted to Afghanistan in the New Year with his regiment and friends said he was "very happy and looking forward" to going.
Rachel Masters, prosecuting, said a witness saw Flannigan punch the soldier, causing his head to "bounce off the floor".
'Further trouble'
Mr Gibson was taken to the James Cook Memorial Hospital, in Middlesbrough, but died six days later.
Flannigan told police that he punched Mr Gibson after he had hit him.
He said: "That's him that's hit me, so I hit him."
Asked by detectives whether it was "pay back", Flannigan replied: "Yeah, that's what I thought."
Judge Peter Fox QC, told Flannigan: "I sentence you on the factual basis, which the prosecution have accepted, that you had minutes before been struck once to the face by Mr Gibson.
"When you recognised him as being the person responsible for having struck you, you believed there would be further trouble and you threw your punch."
'Not enough'
In a statement, Mr Gibson's parents criticised the length of Flannigan's sentence.
Describing their son as a "dedicated soldier", Linda and Freddy Gibson said: "His dream of going to Afghanistan in the service of his Queen and country was taken away from him.
"The sentence delivered today is definitely not enough.
"We are extremely disappointed at the length of sentence handed down and plan on appealing this through the Crown appeal process.
"Andrew's death has affected our lives and also those of his friends and family - we have been handed a life sentence of pain, grief and 'what ifs'."