Labour's commission calls for alcohol 'floor price'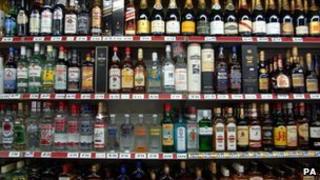 A UK-wide "floor price" for alcohol should be established to reduce consumption, according to a commission set up by the Scottish Labour Party.
The alcohol commission recommended a UK-wide ban on alcohol sales below the total cost of production, duty and VAT.
It said a levy on alcohol retailers should also be considered, to help pay for alcohol-related services.
The Scottish government, which wants to set a basic price per unit, said the report passed the buck to Westminster.
MSPs voted for the principles of the Alcohol (Scotland) Bill before the summer recess.
However, the main opposition parties intend to unite to block the Scottish government policy of a minimum pricing per unit because they say it would hit responsible drinkers.
The alcohol commission, chaired by Professor Sally Brown, looked at alternatives to that policy.
It recommended introducing a floor price across the UK, with a call for duty rises to be the "main lever" for achieving price increases.
Other measures include a social responsibility levy on alcohol retailers, or a local sales tax, to help pay for the costs of emergency and other services.
A limit on the number of licences in each area should be introduced, it said, and local alcohol strategies established across every council area to bring about cultural change.
The body also wants a halt on the sponsorship of sporting events by drink companies - with consideration given to a total ban on alcohol advertising.
'Need leadership'
It called on public bodies to adopt policies which "demonstrate leadership" such as not serving alcohol at official functions.
Earlier in the year, Labour published the interim findings of its commission, which included a legal limit on the caffeine content of alcoholic drinks - a move which would effectively ban the tonic wine Buckfast.
Prof Brown said: "The commission was repeatedly told that it will be difficult to change Scotland's culture in relation to alcohol, but it can be done.
"We need leadership that both recognises the problem and is prepared to take comprehensive steps.
"We are agreed that increasing the price of alcohol should be part of a broader package to reduce levels of abuse. Our view is that taxation should be the main lever for raising prices because the additional revenue raised goes to the public purse.
"Some of our recommendations may be challenging, but they are also necessary if we really want to deal with this problem and not just talk about it."
Minimum price
Scottish Labour's health spokeswoman, Jackie Baillie, said: "The Alcohol Commission has produced a challenging and radical report, which clearly rejects the SNP's proposal for minimum unit pricing and suggests a variety of areas for action.
"I want to see the Scottish and UK governments give serious consideration to its recommendations about how we can tackle alcohol abuse."
The Scottish government has already pledged to consider "any workable alternatives" to a minimum price for a unit of alcohol.
Health Secretary Nicola Sturgeon said: "Labour's Alcohol Commission makes some constructive suggestions for debate, but it ducks the central issue of tackling the cost of alcohol sold at pocket money prices in Scotland.
"In this vital area, it recommends passing the buck to Westminster.
"Why leave it to a UK coalition government - which at best has shown a lukewarm response to tackling the issue of cost - when we could take better, more effective steps ourselves?"
Ms Sturgeon said figures just published by Scotland's chief statistician suggested both men and women north of the border were more likely to exceed government safe drinking guidelines than people in England.
Open door
She added: "A ban on alcohol below the aggregate of duty and VAT is not a serious alternative to minimum pricing because it would create a price so low it would have no impact on the levels drunk - and therefore no impact on the harm and misery caused.
"Our offer to Labour and the other opposition parties is still open.
"We will consider any amendments they want to propose for the Alcohol Bill that provide a realistic, workable and effective pricing intervention that can be put in place now.
"Their commission has failed to come up with anything of substance, but the door is still open."
Alcohol Focus Scotland's chief executive, Dr Evelyn Gillan, said it welcomed recommendations such as limiting the number of licences in certain areas and curbs on advertising, but still believed minimum pricing was the best option.
She added: "We are disappointed that having acknowledged the need to take action on price, the report then proposes a measure which we believe would be almost impossible to implement and could see some products being sold for less than the price they are currently sold at.
"We know that banning the sale of alcohol below the cost of duty and VAT would have little effect on reducing harm as a two litre bottle of cider currently on sale for £1.32 would actually come down in price to 85p."