Edinburgh Festival tribute for conductor Mackerras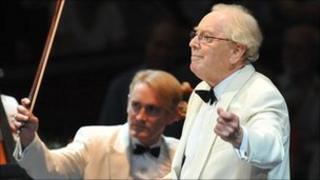 A special concert to mark the life of celebrated Australian conductor Sir Charles Mackerras is due to take place in Edinburgh.
Sir Charles died in July at the age of 84.
He became honorary president of the Edinburgh International Festival in 2008 after performing there many times.
Among those performing at the special tribute will be the Sydney Symphony Orchestra (SSO) and musicians from the Scottish Chamber Orchestra.
Sir Charles joined the SSO as an oboist during World War II, before becoming its principal oboe in 1946.
He was chosen to conduct the orchestra on the opening night of the Sydney Opera House in 1973.
The conductor was made honorary president of the Edinburgh International Festival after performing countless times at the event, dating back to 1952.
He was only the second person to hold this role, after Yehudi Menuhin.
This year's festival also sees Opera Australia and Melbourne-based Duo Sol take to the stage during its final week.
Opera Australia's Bliss will make its European premiere on Thursday.
Based on a novel by Peter Carey, the production features a score by Brett Dean, libretto by Amanda Holden and is directed by Neil Armfield.
On Friday, ensemble Duo Sol will represent Australian composers as part of the New World focus of the festival this year.