Lib Dems criticise transport agency flights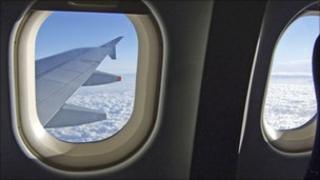 The number of flights taken by Transport Scotland officials is "sky high", according to the Lib Dems.
The agency took 661 domestic flights in the past 12 months - despite pledging to use more environmentally friendly modes of travel, the party said.
The Lib Dems claimed the flights had created 65 tonnes of carbon dioxide.
Transport Scotland said it had set challenging new targets for 2010-2013 to reduce emissions caused by air travel by 20% and overall by 15%.
However, during 2007-2009 emissions caused by its business travel rose significantly.
Despite reducing emissions arising from staff commuting by about 15%, its total travel carbon footprint still increased by 3%.
Scottish Lib Dem transport spokeswoman Alison McInnes said: "The number of flights within mainland Britain taken by Transport Scotland is sky high.
"Given that Transport Scotland only employ 280 people, I wonder how they can take so many flights.
"This is Scotland's transport agency - the body supposed to be helping us reduce our emissions.
"They have produced more than 100 tonnes of CO2 by flying, both at home and abroad."
Using figures obtained through the Freedom of Information Act, the Lib Dems said all flights taken by the body in the past 12 months, including international, produced 116 tonnes of CO2.
'Doubling efforts'
A Transport Scotland spokeswoman said its travel plan was the first in the UK to set targets for both business travel and staff travel commuting to and from work.
She said: "We continue to lead the field in this regard, however we know there is more to do and that is why we are doubling our efforts.
"Our recently-published revised plan focuses on business travel and sets challenging targets for reducing emissions by 15% overall by 2013 and 20% for air travel.
"But that is just the start as we are aiming for an overall 25% reduction by 2020."
She added that it would continue to be necessary for staff to continue to undertake some international business travel for which air travel was the only viable option.
Lib Dem Alison McInnes called on the Scottish government to "get a grip" on its transport agency.
"Transport Scotland should be leading by example and using low carbon modes of transport like the train wherever possible," she said.