Rider recovers after Burghley Horse Trials fall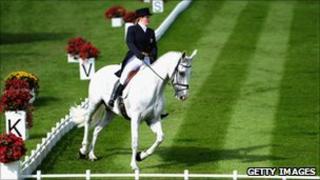 Scottish event rider Nicola Malcolm has been discharged from hospital following an accident at Saturday's Land Rover Burghley Horse Trials.
The 22-year-old, from Renfrewshire, had been competing at the prestigious four-star event when she fell from her horse.
Competition at the event was stopped for about an hour as a result.
Ms Malcolm was given the all-clear after under-going scans at hospital in Coventry on a head injury.
She was expected to return to the Lincolnshire event to watch the showjumping finale.
'Hind legs'
The rider is believed to have come unstuck after her mount struck the 19th fence with its back legs.
Course designer Mark Phillips said: "My information is that the horse stood off a little too far, hit the fence with its hind legs and the impact catapulted Nicola into the air."
Ms Malcolm, who was treated at the scene in Lincolnshire, was later airlifted to hospital.
Her horse was not injured.
Burghley and Badminton are the showpieces of British eventing's season and are two of only five annual four-star competitions worldwide.
The cross-country courses see riders tackle large and often highly technical fences which need to be ridden very precisely. Falls are not unusual.
New Zealander Caroline Powell and Lenamore currently lead the field in pursuit of their first win at a four-star event.
But British riders Oliver Townend and William Fox-Pitt were just behind her in second and third place, respectively.
The winner will scoop a £50,000 prize.