Crime in Scotland falls to 32-year low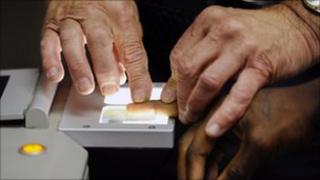 The number of crimes recorded in Scotland has fallen to a 32-year low, official statistics have shown.
According to the figures by Scotland's chief statistician, there were 338,028 crimes reported in 2009-10, compared with 377,433 the previous year.
Despite the drop, the number of sexual crimes, including rape, rose by 3% over the same period.
The justice secretary welcomed the figures and said they coincided with record numbers of police officers.
The biggest drop in the five crime groups was vandalism, including fire-raising, which dropped by 15%.
Violent crime went down 11%, while crimes of dishonesty fell by 9%.
The number of offences, the term used to describe less serious crime such as motoring offences and minor assaults, rose by 1% to 563,735 for 2009-10, compared to 560,291 in 2008-09.
The figures also showed that the country's eight police forces managed to solve 49% of reported crimes.
Central Scotland Police saw the biggest rise in the number of crimes of indecency, which went up 21%.
The increase was put down to two large-scale inquiries, including Operation Defender, launched to trace paedophiles using the internet.
In Dumfries and Galloway, crime showed a fall of 15%, while Tayside Police recorded a drop of 13%.
In Glasgow, Strathclyde Police said crime had fallen by 10%, with violent crimes down 9%.
Lothian and Borders Police saw the level of crimes of indecency rise by 8% in the past year, the second successive rise.
'Bevy and blades'
Justice Secretary Kenny MacAskill said the figures were "good news for law-abiding citizens".
He said the drop in crime coincided with the news that a record number of police officers, currently at 17,424, had been recruited.
He said: "I congratulate our police on their efforts to tackle all kinds of crime - particularly in tackling the bevy and blades culture that continues to blight Scotland.
"They deserve our thanks for their greater enforcement and educational activities that have helped reduce significantly the number of violent crimes recorded and seen crimes of handling an offensive weapon fall by 22% in the past year.
"Tens of thousands fewer crimes mean thousands fewer victims. But there still remain far too many victims of crime and we remain committed to taking the action needed to drive crime down further and for the long term."
Labour's justice spokesman Richard Baker said there were still too many weapons offences and that mandatory minimum sentences for knife crime were still needed.
He added: "I am also very worried that we have seen a rise in reports of crime of indecency with large increases in two police forces.
"Violent crime in Scotland is still running at a much higher rate that the rest of the UK and further progress will need to be made."
Conservative spokesman John Lamont said: "Despite the best efforts of the soft touch SNP government, Scotland's police forces should be congratulated for their efforts in cutting crime rates and keeping our neighbourhoods safe.
"If it had been up to Labour, there would be 1,000 fewer police today. If it had been left to the SNP there would be 500 fewer.
"But because of Scottish Conservative pressure we have 1,000 more police out on our streets and in our communities, deterring crime and catching criminals."