Young cheer Pope John Paul II
About 45,000 Scottish teenagers got the day off school to hear the Pope's address at Edinburgh's Murrayfield stadium.
As the Pontiff approached, newspaper reports from the time said the cheering and chanting could be heard across the city.
John Paul II was led into the packed stadium by the Saint Francis Pipe Band from the Gorbals.
No-one was prepared for the reception. Band member Tommy Harrison described it as a "mass of noise".
He recalled: "It's the first time I've ever felt what the football stars must experience when they're at Hampden or Wembley."
Anthony Ódoibhailein said: "We were then known as the quietest pipe band in the world because nobody could hear us playing."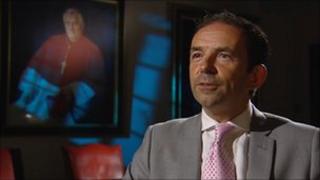 But the football-style chants of "John Paul" received a mixed response.
Father Ryszard Holuka, secretary to Cardinal Gray, said: "A lot of people have said, watching the TV or film of the event, that the youngsters were a bit too exuberant, or unruly. It's rubbish."
Monsignor Dan Hart recalled: "The youngsters were roaring with delight after every few phrases.
"Cardinal Gray was getting a bit upset at the Pope being interrupted. He was a bit worried about it, but not the Pope, he loved it.
"He really did have an enormous ability to communicate with people."
As the crowd continued with shouts of John Paul Two, we love you, the Pope said basta, Italian for enough.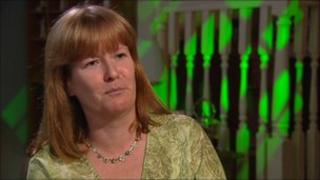 "Of course, young people in Scotland were not familiar with the Italian word basta and it sounded like something else," says choir member Ronnie Convery.
"I remember there was a degree of shock as people wondered what the Pope just said."
Marie Therese Hayes, a pupil from Dumbarton who was at the event, said: "When I got back, my brother's comment to me was 'you lot were disgraceful, you were cheering every five minutes … he couldn't speak for you lot interrupting him'.
"He wasn't very impressed at all, but he wasn't there."
Journalist John Cooney said even the strict messages conveyed by the Pope drew massive cheers.
'A superhero'
He said: "He's giving them the hard message, the old doctrine; no fornication, no pills, no divorce. And the kids are lapping it up.
"There was this feeling that the superstar had come."
Ronnie Convery, who attended both the Murrayfield and Bellahouston events, explained why the Pope captured the imagination of young people.
"He was young and vigorous," he said.
"He was a tanned, fit, a skiier, actor, former footballer who had fought the Nazis, fought the Communists - he was a superhero."
The First Pope in Scotland will be broadcast on BBC1 Scotland on Sunday, 12 September at 1815 BST.