Hundreds of Scots pubs closed since smoking ban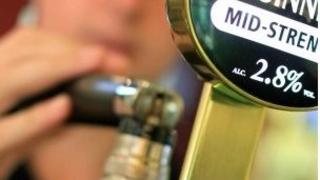 More than 700 pubs in Scotland have closed since the smoking ban was introduced, according to a new report.
Scotland was the first part of the UK to bring in legislation outlawing smoking in enclosed public places in March 2006.
Research commissioned by the Save Our Pubs and Clubs campaign showed that 11.1% of pubs north of the border had shut over the past four years.
The report said cheap drink prices in supermarkets has also had an impact.
Oliver Griffiths, director of CR Consulting, which carried out the research, said: "The decline of the British pub had started before the smoking ban but at a low level. The ban had a sudden and marked impact, accelerating the rate of decline."
The report showed that almost three years after the smoking ban was introduced 7.1% of pubs in Scotland had closed, rising to just over 11% after four years.
In England and Wales - where smoking in public places was banned later -the report said more than 7% of pubs had closed after almost three years.
Relax the ban
Paul Waterson, president of the Scottish Licensed Trade Association, said: "This research shows how badly Scottish pubs have been hit by the indoor smoking ban, cut-price supermarket competition and regulation."
He said it was time for the Scottish government to help the industry and relax the ban.
He suggested options such as separate smoking rooms should be considered.
The BMA in Scotland said the current legislation had made a huge difference to public health.
Dr Charles Saunders, deputy chairman of the BMA in Scotland said: "It has played a key role in helping to change people's attitudes towards smoking and it has clearly underlined the dangers associated with smoking.
"Scots have embraced the smoke-free legislation and many have chosen to quit as a result."
Anti-smoking lobby Ash Scotland said there was no evidence that the smoking ban was responsible for an increase in the closure of pubs in Scotland, but said there was plenty of evidence that Scotland was a healthier nation for having introduced smoke-free public places.
Sheila Duffy, chief executive of Ash Scotland, said:"What is clear is that there are a number of various factors affecting pubs.
"These include changing social habits, raw materials and energy prices increasing whilst beer sales are declining. This research issued by a pro-smoking, tobacco industry-funded group ignores all these more pressing factors."