Boundary changes could give Tories electoral boost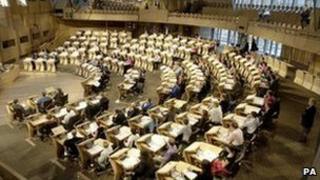 Boundary changes for the next Scottish Parliament elections suggest a possible electoral boost to the Conservatives, according to expert analysis.
Professor David Denver's study said that if the new constituencies had been in place at the 2007 poll, the Tories might have won three extra seats.
However, the Scottish National Party would have remained the largest party.
Next year's Holyrood elections will be fought on re-drawn boundaries designed to even out seat sizes.
Nearly all first-past-the-post constituencies are changing, most substantially.
It is calculated that one in six electors in Scotland will now be in a different seat as a result of the re-drawn boundaries.
There are also smaller changes to the top-up regional seats as a result of constituencies being moved to different regions.
An expert report for the BBC and the Press Association has calculated the potential impact.
Prof Denver of Lancaster University said that if the new boundaries had been in place last time the Tories might have taken 20 seats rather than 17.
The Liberal Democrats would have been up one, on 17 rather than 16.
Labour would have been two down, winning 44 seats in total rather than 46 and the SNP would have been one down, with 46 seats rather than 47.
Overall, that implies a slightly improved net lead for the SNP over Labour.
Professor Denver, who is an acknowledged expert in this field, reckoned the Greens would have had one seat, instead of two and the Independent MSP Margo MacDonald would still have won.
However, the academic stressed that caution must be taken in interpreting the results. He pointed out that constituencies were now built from much larger, more diverse council wards, making it very difficult to offer projections.
In addition, he noted that he calculated what might have happened in 2007, had the new boundaries been in place then.
He pointed out that he was not offering a forecast for next year's elections which would be influenced by political developments since Holyrood last went to the polls and issues like the incumbency of sitting members.
Prof Denver estimated seats which might have had a different political colour by contrast with comparable previous constituencies.
Seat changes
He calculated that the Tories might have taken both Eastwood and Dumfriesshire ahead of Labour.
He suggested that Aberdeen Central might have been won by the SNP rather than Labour while Stirling could have been Labour, not SNP.
The new Midlothian South, Tweeddale and Lauderdale seat, he reckoned, would have been SNP, not Liberal Democrat.
The study classed certain constituencies as "new" in that they have experienced the greatest change.
Among these, he concluded that Glasgow Southside would have been Labour, not SNP. That seat includes a large part of the Govan seat presently held by Nicola Sturgeon, the SNP deputy leader.
In this category, the professor also calculates that Edinburgh Central might have been won by the Liberal Democrats, over Labour.