Call to merge Scottish education authorities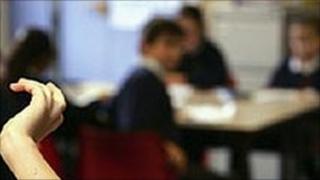 Education authorities are facing a call to merge so classrooms may be spared the worst of the cuts in public spending, it has been revealed.
The former chairman of the spending watchdog, the Accounts Commission, has said that action is needed to avoid duplication of services.
Alastair McNish said he anticipated that council leaders would not "like turkeys, vote for Christmas".
Mr McNish is also the former chief executive of South Lanarkshire Council.
Cosla, the umbrella body for local councils, said it was already striving for efficiencies and some authorities were looking at the viability of merging some services.
Mr McNish told BBC Scotland: "The problem is severe, it won't go away.
"My one fear is that the phrase 'turkey's voting for Christmas' will come across the minds of Cosla and all those in power in the local authorities across Scotland."
Isabel Hutton, education spokeswoman for Cosla, said: "Education cannot be left out of the whole of the local government settlement when we are looking at the finance cuts that are coming forward.
"It is not just local government, it is health, policing, fire services, so to concentrate solely on one area such as education, I don't think that solves the problem of the mammoth task that the whole of the public sector faces in the months and years ahead."
Education Secretary Michael Russell said: "I have already said that I am keen to hear about local authorities' ideas which would better deliver the twin principles of access and excellence in our schools.
"Within that, I shall also welcome and support ideas that will deliver education services more efficiently through more effective deployment of resources across boundaries.
"Already, some education authorities do manage and deliver aspects of education services jointly; and further such developments will likely, and should be, a part of authorities' responses to the forthcoming spending review and tightening of public finances at all levels."