'East-west divide' in youth gangs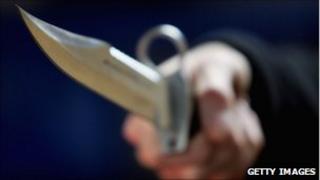 A "clear east-west divide" in Scotland's gangs has been uncovered in a new study by Glasgow University.
The report is based on interviews with young people involved in gangs in Glasgow and Edinburgh, as well as those who work with them.
It said gangs were more concentrated in the west and that territorial rivalries were stronger there than in the east.
The study said adopting a one-size-fits-all approach to tackle the problem was ineffective.
It said lessons learned from targeted projects such as the Community Initiative to Reduce Violence (CIRV) in Glasgow - which includes tactics such as the police bringing rival gangs together - should be shared with other parts of Scotland.
This scheme - which has seen gang-related violence drop by 46% in the first 18 months - will be evaluated after a two-year pilot.
As well as interviewing the youngsters themselves, the authors of the latest study spoke to staff from the agencies working with them.
They reported clear distinctions between the gangs - in the west youth gangs were defined according to their strong territorial affiliations and rivalries, which manifested in gang fighting.
However, interviewees in the east mainly identified troublesome youth groups who were engaged in relatively low-level anti-social behaviour.
Gang fights in the west were often orchestrated and planned, the study found, whereas violence in the east was more often described as opportunistic.
Both types of groups were said to be generally concentrated in poor areas and could consist of as many as 30 to 60 young people - mostly male - at the weekends.
Knife carrying was closely associated with those involved in gang fighting, according to the report, but it found no clear trend in young people's attitudes towards the carrying of weapons.
The researchers said many of those young people interviewed had not yet considered withdrawing from gangs, and those who had said there were significant barriers to exiting, such as the difficulty of breaking key relationships.
The report concluded that initiatives to tackle gangs should be targeted at "core members" to have more of an impact.
One of the report authors, Jon Bannister from the University of Glasgow, said: "Many of the young people we spoke to were acutely aware of the dangers they faced as a result of being involved with a gang and of carrying a knife.
"Nevertheless, young people were drawn to these behaviours, feeling their actions to be inevitable given their personal, family, social and neighbourhood circumstances.
"Because individual, group and (in some instances) territorial identities are so closely intertwined and longstanding, this demands the development of a multi-faceted, integrated and long-term intervention strategy to combat these behaviours."
'Solved overnight'
Justice Secretary Kenny MacAskill said there is a cycle of gang culture which has been endemic in areas of Scotland for generations.
"We know it won't be solved overnight but we are determined to take action to break the cycle of gang membership which has blighted Scotland for too long," he said.
"The research concludes that there are no quick fixes or easy solutions, no blanket, one-size-fits-all policies which will solve this.
"What we need is targeted action which tackles the deep rooted causes - drink, drugs, deprivation and the deep-rooted culture of gangs ingrained in some communities.
"Whether it is better information sharing, greater enforcement, mentoring, more partnership working or the deploying of tough tactics learned from the Community Initiative to Reduce Violence, we will continue to look to new ways of breaking the culture of gang membership in Scotland."