Child focus shift to early years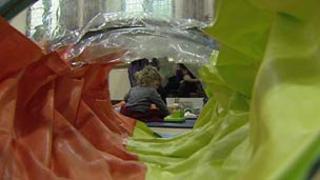 Millions of pounds each year are spent on dealing with the fallout of crime and ill health in Scotland, but what if you could prevent that by spending a bit more on children in the first months and years of their lives?
It's an idea that's slowly but surely building up a head of steam and could also make better financial sense.
The East Dunbartonshire family centre is one of many across Scotland at the front line of providing help to families in crisis.
Projects like these are always under pressure, with a near constant stream of people coming through the doors in need of urgent assistance.
Support worker Joan Gallagher backs the benefits of intervening early, before problems become too serious.
She said: "If you had a car windscreen and it was chipped, you'd take it to get it repaired before it cracks.
"Families are the same. If you start dealing with problems before they become huge difficulties, you are able to change things in a long-term way."
A key early years conference in Edinburgh this weekend has brought together experts from across the spectrum, from police officers and health professionals, to academics and politicians.
The Scottish government is concerned that too much is currently being spent on dealing with the consequences of social problems like drink and drug abuse, and not enough stopping them from happening in the first place.
Backers of an early years strategy argue that spending £1 on a child on the first months and years of their lives can save the public purse £7 later on.
Ten years ago, Susan Deacon was the first health minister under devolution.
Now she's been appointed as the Scottish government's "early years champion", with a remit to make recommendations to ministers before the end of the year.
Prof Deacon, said: "All across the country there are wonderful examples of where families and young children are being given support within communities through our public services.
"There is a very real concern that, with public spending rapidly reducing, these kinds of activities might be seen as soft or less necessary than other public services.
"Nothing could be further from the truth."
Child attention
Senior police officers like Det Ch Supt John Carnochan have spent years on the front line dealing with the consequences of crime.
The Strathclyde Police officer is now all too ready to sign up to a more preventative approach.
"If we are dealing with aggression and violence and domestic abuse, if we are dealing with violent households, households where there are drugs, then we can share much more information," he said.
"We can make sure we are applying, not only criminal justice resolutions, but actually applying support and protecting children."
Scotland's children's commissioner, Tam Baillie, points out the basic idea of a focus on the early years has been around for a while and has now called for action.
He added: "For me one of the key elements is about parenting support, its about implementing parenting programmes right across the country."
Academics like Prof Aline-Wendy Dunlop, of Strathclyde University, play a crucial role in gathering people together to talk about the early years - but, with public finances tight, can new services be paid for?
"Sometimes its easier to look at what happens if you don't spend that money," she said, adding: "You might have children who are living in significantly difficult situations.
"They say 25% of children live in poverty, one in five families with no work - in those situations, people are stressed, they're anxious, they're maybe not giving children the full attention they require and then there may be issues later in life.
While the politicians and experts talk about the next move, it will still fall to organisations such as the East Dunbartonshire Family Service to continue to provide vital help to young families, in a climate where public spending is getting scarcer by the day.