Cross-party talks on defence cuts 'constructive'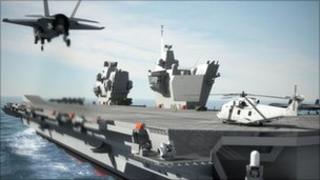 Talks between the Scottish government and opposition MSPs in a bid to avert possible defence cuts have been described as "constructive".
The Ministry of Defence's strategic review has led to fears two aircraft carrier contracts worth £5bn could be cancelled and RAF bases closed.
The SNP, Labour, Tories, the Lib Dems and the Greens met to try to agree a joint submission to the UK-wide review.
But opposition parties said more work was needed.
Deputy First Minister Nicola Sturgeon, of the SNP, held joint talks with the Scottish Labour, Scottish Conservative and Scottish Green leaders - Iain Gray, Annabel Goldie and Patrick Harvie - as well as the Lib Dems' Jeremy Purvis, in Edinburgh.
The UK government stressed no decisions had yet been made on the cuts ahead of an announcement at the end of October.
But the coalition administration has made clear the need to tackle the public spending deficit, in a package of cuts likely to impact across many government departments.
The MoD is under pressure to cut its £36.9bn annual budget by up to 20%.
Describing the meeting as "very productive", Ms Sturgeon said: "I'm very hopeful that we'll get to the position where we can agree that joint submission, because that will be more powerful than any of us doing it on our own.
"We're in a very tight timescale now, we know that decisions on the defence review are looming imminently, so we're looking to agree this within the next couple of days."
The deputy first minister added: "We know there are many things that divide us - on defence there are many issues we don't agree on.
"But if we can find agreement on the importance of these issues to jobs and the economy of Scotland, then I think that will be very powerful."
Mr Gray attacked the original draft submission, saying: "The case made so far by the Scottish government is not persuasive and full of holes. There is a long way to go and time is running out.
"There is no input from the unions and it does not address Scotland's crucial role as part of Britain's defence strategy. Faslane is not even mentioned, which undermines the credibility of the document."
But the Scottish Labour leader added: "Today's meeting was constructive, as the Scottish government are prepared to revise the document's shortcomings and ensure input from the workforce."
Mr Purvis described the talks so far as "helpful", but claimed there were "major weaknesses" in a draft submission sent to the parties by the SNP government over the weekend.
He said of his own party's position: "We've said all along there should be a strategic defence review, as all the parties have.
"This review started when Labour were in office, and all parties have said there has to be consideration of all aspects of defence within Scotland - but that certainly does not mean that we don't make the strongest possible case."
Ms Goldie said it was right to reflect Scotland's long-standing contribution to the UK defence capability.
She added: "In a perfect world, such tough choices would not have to be made, but Labour's financial mess has left the UK coalition government facing some very hard and difficult decisions.
"The meeting on Monday morning was constructive, but it is a work in progress and the clock is ticking. It will need maturity of attitude if a collective submission is to be made to the Ministry of Defence."
Mr Harvie said: "Make no mistake, the UK is likely to reduce defence spending following this review, and as a party which opposes the aggressive projection of military power we see that as no bad thing.
"But it must be done without leaving economic wreckage behind, and for the Clyde this means shifting our engineering skills from military hardware to the industries of the future, such as renewable energy."
It has emerged that more than 100 contracts totalling about £1.25bn have already been awarded towards the construction of the two new aircraft carriers, HMS Queen Elizabeth and HMS Prince of Wales
They are being built at Rosyth in Fife, on the Clyde and in Portsmouth and north Devon, and are due to launch in 2016 and 2018 respectively.
Fears over their future were sparked after BAE systems chief executive Sir Ian King told the Commons Defence Select Committee on Wednesday that the company was asked to consider a number of options ranging from "one carrier to no carriers".
Scottish ministers said cancellation could cost up to 10,000 jobs.
First Minister Alex Salmond told the BBC earlier: "Although the political parties in Scotland have different defence policies with different emphasis, it should be possible to reach agreement and hopefully it will be done today."
The future of Scottish RAF bases at Lossiemouth and Kinloss, in Moray, could also be in doubt.