Scottish government review to consider new BBC rival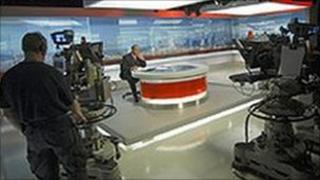 The Scottish government has launched a review into a new public service broadcaster to compete with the BBC.
Culture Minister Fiona Hyslop has appointed an independent panel to look into funding a digital network comprising TV and internet channels.
The panel will be chaired by former BBC Scotland news boss Blair Jenkins, who previously headed up the Scottish government's broadcasting commission.
It has been asked to report its findings in January.
Ms Hyslop, said: "After more than 50 years of opt-out television services, a dedicated Scottish digital network would completely transform our perspective.
"There is unanimous support for the network in the Scottish Parliament and recognition of its potential to develop Scotland's broadcasting sector, provide more high-quality programmes for Scottish audiences and create much-needed competition for the BBC."
The panel also includes former Herald editor Charles McGhee, Downing Corporate Finance investment director Judith Mackenzie, Stirling University media professor Neil Blain and David Wightman, a former member of the Scottish Broadcasting Commission.
The commission previously concluded up to £75m of public money should be spent on a new, high-quality Scottish TV channel to fill a "missing piece of the public service jigsaw".