Iberdrola plans £2.7bn investment in Scotland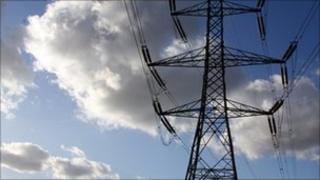 First Minister Alex Salmond has welcomed an announcement by Spanish power giant Iberdrola that it will invest about £2.7bn in Scottish businesses over the next two years.
Iberdrola expects the legal profession and construction firms to be among those to benefit from increased spend.
The Scottish Power owner has more than 1,800 suppliers in Scotland, including Scottish Coal.
Mr Salmond said Iberdrola's commitment to Scotland was "immensely important".
The first minister discussed Iberdrola's plans for investment in Scotland during a visit to Bilbao to further strengthen economic links with the Basque Country.
'Intensify commitment'
Senor Ignacio Galan, chairman of Iberdrola, said: "In the coming years, Iberdrola will intensify its firm commitment to Scotland.
"We plan to make investments in the United Kingdom of £4bn in the 2010-12 period, two-thirds of which will go to Scotland."
He added: "In the future, we want to see many more Basque companies going down the same road, setting up new business relationships, promoting the transfer of knowledge and technology and ultimately, creating new business opportunities.
"This will mean that Iberdola will continue to be a catalyst for development in Scotland and the Basque Country, two lands of great importance for our company and for which we have major plans in the future."
Not all of the Spanish company's spend may involve investment, however.
BBC Scotland's business and economy editor Douglas Fraser said much of the expenditure will go towards the cost of running its power stations, including coal-burning Cockenzie and Longannet.
'Vote of confidence'
Meanwhile, Mr Salmond also announced plans for Spanish renewable energy company Gamesa to send a delegation to Scotland to explore opportunities for investment in turbine manufacturing.
Niall Stuart, chief executive of Scottish Renewables, said: "Attracting a major turbine manufacturer could mean thousands of new jobs, and transform the regional economies of likely investment locations such as Dundee or Nigg.
"As one of the wind industry's market leaders, Gamesa's interest in the opportunities here in Scotland is a massive vote of confidence in our resource base and our industry, and shows that there are still massive opportunities to attract jobs and manufacturing, as well as capturing a significant share of the £30bn to be invested over the coming ten years."