Economic activity in Scotland 'still rising'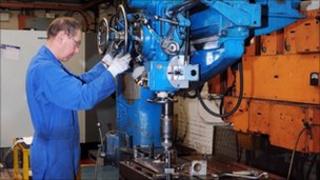 Economic activity across Scotland's private sector rose last month at a stronger pace than the UK as a whole, according to a new report.
The Bank of Scotland survey said this was the first time this had happened in the current recovery.
But the report found there was only a moderate rise in output.
Underlying data continued to highlight marked divergences between the performances of the manufacturing and services sectors.
The goods-producing sector saw by far the most robust recovery during August, according to the Bank of Scotland's Purchasing Managers' Index (PMI) report.
Meanwhile, new order growth was only marginal and remained below that seen at the UK-wide level.
Activity levels across the Scottish economy have now risen in each of the past 14 months, with the rate of expansion broadly unchanged since May.
'Activity rising'
In August, both manufacturers and service providers recorded higher output, but the underlying trends varied.
In turn, rising demand for lower-priced goods and services led to a mild overall increase in new orders during August.
Donald MacRae, chief economist at the Bank of Scotland, said: "Scotland's recovery from recession was maintained in August with activity rising in both manufacturing and services.
"The recovery is more robust in manufacturing. However, new orders growth in both sectors remains weak and rising costs continue to exert pressure on Scottish business.
"Travel, tourism and leisure showed the strongest performance in the service sector."