Heriot-Watt University handed golden £1.3m donation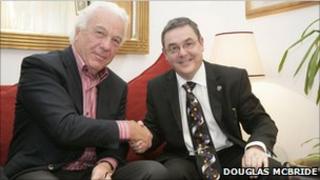 A gold-mining tycoon is donating £1.3m to a Scottish university to boost research into sustainable energy.
Canada-based philanthropist Robert M Buchan is giving the cash to Heriot-Watt in Edinburgh, where he studied more than 40 years ago.
The money will fund a top-level post in sustainable energy engineering, with a view to keeping Scotland at the forefront of the field.
It is the largest donation Heriot-Watt has ever had from an individual.
The announcement came in the same week as the launch of the Whitlock Energy Collaboration Centre at Carnegie College in Fife, which Mr Buchan also gave £650,000 to establish.
Mr Buchan, who originally came from Rosyth in Fife, obtained an undergraduate degree in mining from Heriot-Watt in 1969.
'Giving forward'
In 1993, he founded Kinross Gold, a small gold mining company which went on to become the third-largest primary gold producer in North America.
After retiring as chief executive in 2005, he was one of the founders of Katanga Copper, the developer of one of the world's largest copper deposits.
Mr Buchan said: "I believe in giving forward rather than giving back. It may sound like a small difference, but it reflects a desire to focus on what is needed in the future.
"The chair in sustainable energy engineering will focus attention on research and study in an area which, it is my hope, will keep Scotland at the forefront of this rapidly-evolving discipline."
University principal Prof Steve Chapman commented: "This is a wonderfully generous donation by one of our most successful alumni, which will be used to fund a key post in line with the university's strategy of appointing top-level candidates to address key challenges facing the world today."