Scottish ministers confirm primary class size cap plan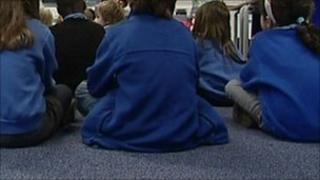 Plans to bring in a legal limit of 25 pupils for primary one classes have been announced by the Scottish government.
The cap is some way short of an SNP manifesto promise, which pledged classes in the first three years of primary would be capped at 18 pupils.
Opposition MSPs said the government had failed to meet its election pledge.
Previous plans to reduce class sizes have failed because schools could not legally say classes were full.
Families refused a place were often successful when they went to court to appeal against a decision not to allow their child to attend on the basis of class sizes.
Under current rules each teacher can have up to 30 pupils in their class.
However - subject to parliamentary approval - the new class size cap will come into force on 11 October and apply to the 2011-12 academic year.
Education Secretary Mike Russell will lay the regulations at the Scottish Parliament on Thursday.
Speaking during a visit to Letham PS in Livingston, Mr Russell said the change would "primarily help local authorities who are under pressure in terms of placing requests and placements".
He added: "The legal regulations for 25 are what we need to stop difficulties local authorities have experienced.
"We continue to pursue the policy of 18 or less in primaries one, two and three, we have made substantial progress against a context of very difficult financial circumstances.
"That is where we are, that's the progress we're making and I have every intention of continuing to make progress in very difficult circumstances."
Mr Russell added that progress was being made with council umbrella body Cosla towards having 20% of primary one to three pupils in class sizes of 18 or fewer.
However, Tory education spokeswoman Liz Smith said: "The SNP made a very specific manifesto pledge to deliver class sizes of 18 or fewer for all P1-3.
"Last year, after councils bluntly told the SNP that they couldn't deliver this policy, that target was abandoned and replaced with a more 'flexible' 20% and a blatant attempt to doctor the statistics by claiming that a class of 30 pupils with two teachers can count as two classes of 15.
"This is dishonest and is yet more proof of the abject failure of the class-size policy."
Additional difficulties
Labour's Des McNulty said the new regulations would create additional difficulties for education authorities faced with SNP budget cuts.
He added: "There is no new money for teachers or classrooms so primary heads, faced with impending reductions in psychological services and learning support, could have to turn parents away from the school of their choice at P1.
"These same parents will be able to apply for their children to be admitted at P2, causing disruption for children and schools."
Liberal Democrat education spokeswoman Margaret Smith said: "The SNP government failed to deliver their 'flagship' manifesto commitment to reduce class sizes to 18 for all primary one to threes.
"Teachers and pupils all over Scotland have had enough of the education secretary's hollow promises.
"With plummeting teacher numbers and many probationers unable to get a job, the education secretary needs a fresh approach to improving the teacher to pupil ratio in our schools. This will ensure a fair start for all our children."
Leaders of the EIS teaching union gave the new regulations a "guarded welcome".
Assistant secretary Drew Morrice said: "The regulations will bring certainty to provision across the country and avoid the "post code" lottery in class sizes across Scottish councils.
"However, this limit is less than the government's manifesto commitment to reduce primary one to primary three classes to 18 'as quickly as possible' and less than EIS policy of class sizes being a maximum of 20."
He said provision must be extended to primary two and primary three as soon as practicable.