Strength of the Catholic Church in Scotland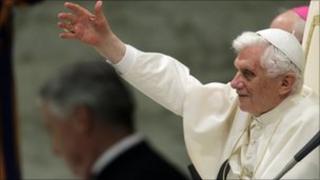 As the Pope arrives in Scotland, in what state will he find the Catholic church?
When Pope John Paul II preached in Glasgow in 1982, the crowd was estimated at 300,000.
On Thursday, fewer than a third of that number will be in Bellahouston Park as his successor, Benedict XVI celebrates Mass.
John Paul told his congregation he was full of admiration for the plans of Scottish bishops to use his visit to promote the spiritual renewal of the country.
But if it happened, its effects have not lasted.
Scotland's Catholic population has fallen by 18% since 1982; baptisms are down 39%; and the number of people marrying in Catholic churches has plunged by 63%.
The number of priests is also falling.
In 1982 all but two parishes in the Glasgow archdiocese were served by two or more priests.
Now, Canon Robert Hill at St Patrick's in Anderston says being on your own is the norm.
"Many of us now have shared responsibilities: I myself have two parishes to look after.
"Most priests have at least one other ministry, school chaplaincy, hospital chaplaincy, so I suppose what I am saying is the same work has to be done with fewer people."
Smiling, he said in the old days, he could have come home in the evening to share dinner with other priests. Now he is more likely to have to make his own meal.
Scotland is increasingly secular, and the dwindling congregations are not a problem uniquely confronting the Catholic church.
'New era'
According to the Reverend Doug Gay, an ordained minister who lectures in practical theology at Glasgow University, all churches are now "running hot" and storing up problems for their priests and ministers.
"The implications of that are severe for many of the clergy involved because they are having to work harder and in some cases having to retire later, and there's a fair amount of discouragement around amongst people because of this," he said.
Dr Gay added: "There are also implications in that churches have to plan for a new era and they are going to have to do things differently, they're going to have to involve lay people in the churches to do far more than they did previously.
"And you can see this in both the Roman Catholic church, but also the Church of Scotland; new patterns of ministry, and more flexible approaches to ordination."
One way the Catholic church is confronting its dwindling manpower is through the use of permanent deacons.
Although there are about 40,000 around the world, Scotland has resisted the idea until recently, and now there are more than 50.
Deacons - one of the oldest offices in the church - are ordained to proclaim the Gospel and bring the Word to the community.
Twelve were appointed in Glasgow in 2009; a further three in 2010.
Michael O'Donnell is one. A married man with children, he says he can take on many of a priest's responsibilities, augmenting their work rather than replacing them.
"What we do in the deaconate is rather than just being in the church, we're taking the church into the community," he said.
"So it's working with the priests, not instead of the priest, or due to a shortage; it's working with the people; it's the people of God, and we all have a role within that."
The Catholic Church insists it is not fixated with the size of its flock.
But it has pointed out that since the current pope was elected, there has been an increase in the number of men training to become priests in Scotland.