One in four Scots still smoking says Ash report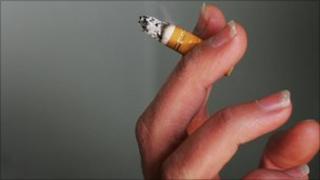 Anti-smoking campaigners have urged ministers to "explore new ways" of reducing the damage done by tobacco.
The plea came as Ash Scotland published its report showing that almost one in four Scots were smokers.
The report also showed that in the most deprived areas, smoking rates stood at 45% in 2008, compared to 11% in the most affluent of communities.
A ban on smoking in enclosed public places was introduced in Scotland in March 2006.
The Scottish government had said it wanted to cut the number of smokers in Scotland to about one in five.
However, the Ash Scotland State of the Nation report said: "Although we should be proud of the fall in smoking rates across Scotland, it is shocking that in many deprived areas, levels of smoking are as high now as they were in the general population in the early 1970s."
The report highlighted falling rates of youth smoking, with 15% of 15-year-olds regularly using tobacco in 2008, compared to a peak of 30% in 1996.
While the number of 16 to 24-year-olds who smoke fell between 1999 and 2004, this rose again, reaching 28% by 2008.
Sheila Duffy, chief executive of Ash Scotland, said the report showed tobacco control measures in Scotland had been a success - with smoking rates falling from 31% in 1999 to 24% over the decade.
However, she said: "Tobacco is still Scotland's biggest preventable killer and it is time to explore new ways to continue to reduce the harm caused by this lethal product.
"The action taken now will pay dividends in the future. Tackling tobacco will bring long term benefits to both the health of our nation and our wider economy."
'Cultural acceptability'
The Scottish government has passed new legislation which will ban the display of tobacco in shops and will also outlaw sales from cigarette vending machines.
Ms Duffy said that while Scotland had become a "world leader" in tobacco control measures, the country's high rates of smoking meant work was still needed to stop people lighting up.
According to the Ash study, there are currently about 13,500 adult deaths due to smoking every year in Scotland, with thousands of other people suffering from smoking-related illnesses.
A Scottish government spokeswoman said: "Since devolution, national tobacco control programmes, including the smoking ban in March 2006 and raising the age of purchase of tobacco from 16 to 18, have resulted in a shift in the cultural acceptability of smoking.
"The new Tobacco and Primary Medical Services (Scotland) Act 2010 which was overwhelmingly endorsed by the Scottish Parliament will bring an end to displays of cigarettes in shops and cigarette sales from vending machines."