Call to end poverty education gap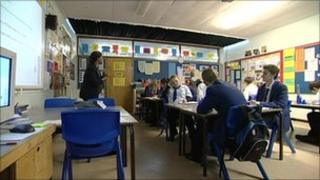 Pupils from poorer backgrounds are still lagging behind their better-off classmates, a charity has warned.
Save the Children compared overall exam results with attainment by pupils registered for free school meals.
The research suggested children from wealthier backgrounds performed about 60% better in exams than poorer pupils.
The charity has called on the Scottish government and opposition parties to come up with measures to break the cycle of under achievement.
Douglas Hamilton, head of the charity in Scotland, told BBC Radio Scotland's Good Morning Scotland programme that steps taken so far had not helped poorer children to fulfil their potential.
He said: "The measures that have been introduced over the last few years haven't made the impact in reducing the gap.
"We need to make tackling the educational difference between the poorest and their better-off classmates as one of the key education priorities for the next few years."
The research indicated that the gap impacted in every council area and at every stage of school, varying from a 19% gap in Eilean Siar, the Western isles, to 102% in the Stirling area.
Free school meals are provided in Scotland if parents are receiving help including income support, income-based jobseeker's allowance and child tax credits.
A Scottish government spokesman said it was already delivering a wide range of policies to tackle the causes of educational disadvantage.
Low-income families
He said: "We are already trying to improve children's early years through the Early Years Framework.
"And, in relation to school, we are setting a legal limit on P1 class sizes, as well as raising standards in education for all our children via Curriculum for Excellence.
"We have also extended Scotland's free school meals criteria to include more children from low-income families and are taking forward recommendations from Equally Well, the report of the taskforce on health inequalities and our anti-poverty framework."
The spokesman continued: "Furthermore, under the Additional Support for Learning Act, all education authorities are under a duty to make adequate and efficient provision of support for all children with additional support needs due to barriers to learning arising from home circumstances."