Scottish hotel sector recovery continues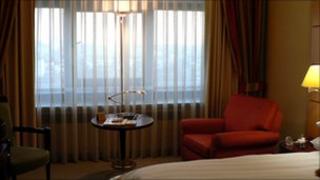 Scottish hoteliers continued to see occupancy levels rise in July, according to the latest sector survey.
Accountancy firm PKF found year-on-year occupancy levels rose 0.6% in Scotland.
The percentage rise was lower than the rest of the UK as a whole, but Scotland's occupancy rate of 80.4% was more than 2% higher than any other part of the country.
The picture in Scotland's three main cities was mixed, with Edinburgh well ahead of rivals Glasgow and Aberdeen.
Edinburgh's occupancy levels of 88.1% and average rooms yield of £84.59 were both higher than in July 2007, which was the peak year.
There was more of a lag in Aberdeen and Glasgow, with occupancy rates held up over the same period by substantial discounting in room rates.
'Good summer'
Alastair Rae of PKF said: "It would be rash to read too much into one month's figures, but there are signs that Edinburgh and the major tourist areas of Scotland are having a pretty good summer.
"Given that the occupancy and rooms yield figures have recovered to pre-recession levels, this is really positive. Aberdeen and Glasgow, which have always been more dependent on corporate spending, have not recovered to the same extent."
Mr Rae said while the latest figures were welcome, the full impact of looming public sector cuts had still to filter through to the wider economy, and details of the UK's government's forthcoming comprehensive spending review remained unknown.
He added: "Both will undoubtedly affect confidence in the wider consumer market which will consequently put pressure on the hospitality sector."