Lockerbie bomber talks with US team 'amicable'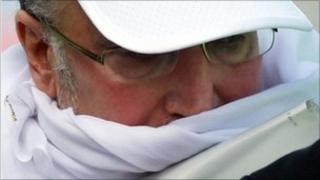 The Scottish government has said talks with representatives of a US Senate committee investigating the release of the Lockerbie bomber proved "amicable".
A spokesman said they had been "pleased" to respond to questions on the fate of Abdelbasset Ali al-Megrahi.
"We believe that it was a helpful exchange," he added.
The Senate Foreign Relations Committee intends to hold its own hearing into the decision to release Megrahi last year on compassionate grounds.
Speaking ahead of the meeting in Edinburgh on Thursday, a spokesman for First Minister Alex Salmond queried the "recent" US interest in the issue.
He said US senators' interest in the release of Megrahi, who was convicted in 2001 of the bombing of Pan Am flight 103, had "waxed and waned".
The Libyan was released from a Scottish prison on compassionate grounds in August last year after being diagnosed with prostate cancer and given three months to live.
However, he has survived for more than a year.
The team representing Senator Robert Menendez is carrying out an inquiry into whether the decision to release Megrahi was linked to an oil deal.
In a recent letter to Mr Menendez, the first minister stressed again that the decision to free Megrahi was taken on compassionate grounds alone.
He said that although he was not accountable to any inquiry held by another country he had given every assistance and could add nothing further.
The investigators did not meet Justice Secretary Kenny MacAskill, who made the decision to free Megrahi.
'Firm view'
Scottish Labour's justice spokesman, Richard Baker, held his own meeting with the US delegation.
He said his "firm view" was that more medical evidence needed to be published - but ruled out connections to the oil trade.
Mr Baker said chemotherapy may have helped extend Megrahi's life beyond the three-month prognosis.
He added: "I also told the delegation that I felt that any conjecture about oil or trade with this case did not hold up to detailed scrutiny.
"Their focus needs to be on the man who made the decision to release Scotland's worst mass murderer and the evidence that the man who released him now relies on."