Tavish Scott in defence spending warning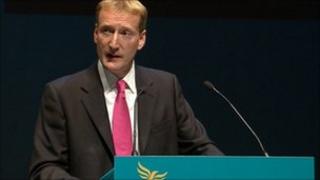 Scottish Liberal Democrat leader Tavish Scott has said the coalition government at Westminster must continue building two aircraft carriers in Scotland.
He told his party's UK conference that Defence Secretary Liam Fox must support Scotland's defence sector or the "consequences will be staggering".
Mr Scott said cancelling the carriers would "wipe out" skills in that sector.
However, he also warned the defence secretary he must not replace the Trident nuclear deterrent.
Repeating his opposition to upgrading Trident, Mr Scott said the nuclear missile system, which is carried by submarines based at Faslane on the Clyde, should not be replaced because ''there's no money left''.
The UK government, a Tory-Lib Dem coalition, has said it remained committed to replacing Trident but the main spending decision could be delayed until after the 2015 general election.
A review of defence spending has raised doubts over the future of the aircraft carrier contracts, worth £5bn, already partially under construction at Rosyth in Fife and on the Clyde.
Concern for the future of several RAF bases in Scotland have also been raised.
Mr Scott told the second day of the conference in Liverpool: "Aircraft carriers are being built in Scotland right now. Wipe away those skills and that knowledge and it may not return.
"We may never be able to build warships again - it's that serious."
He added: "The social and economic consequences will be staggering. I expect the defence secretary to listen and to decide in the national interest but he should support Scottish air bases and Scottish ship building."