Cairn Energy strikes oil off Greenland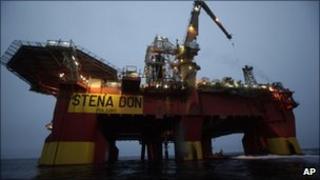 The Edinburgh-based exploration firm Cairn Energy has found oil off the coast of Greenland.
The firm, which has faced attempts by Greenpeace activists to stop it deep drilling, has two types of oil in its Alpha well.
Chief executive Sir Bill Gammell said it was "extremely encouraging" to find evidence of an "active working petroleum system" in the Arctic Sea.
A third prospect is at an earlier stage of drilling.
The two types of oil which have been found - at depths of between 300m and 500m - are now being chemically analysed.
Greenpeace activists boarded the Greenland drilling rig last month to protest about deep drilling, in the wake of BP's Gulf of Mexico oil spill disaster.
Four people were arrested after giving up their occupation of the rig when weather conditions worsened.