Salmonella fear over bean sprouts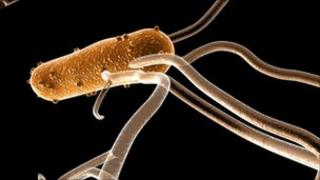 Health experts are urging people to take extra care when preparing bean sprouts after an outbreak of a rare form of salmonella.
The warning comes after 68 people in England and 15 people in Scotland tested positive for salmonella bareilly in recent weeks.
The outbreak came to light after routine testing by a salad producer found the bacteria in bean sprouts.
The Food Standards Agency said the outbreak's source was still unknown.
They have advised that anyone planning to eat bean sprouts should cook them until steaming hot before consumption.
'Gastro-enteritis'
Dr Joe Kearney, director of the Health Protection Agency in the East of England, said: "Outbreaks of salmonella bareilly are under investigation in north west England and Scotland and a greater than expected number of cases have been observed in England.
"We're looking for possible links between the north west and Scottish outbreaks and attempting to find potential sources of the national increase. It's an extensive exercise."
Salmonella bacteria are commonly found in the gastrointestinal tracts of wild and domestic animals and birds, especially poultry.
The bareilly stain of salmonella causes gastro-enteritis in humans.