Doubt remains over Scotland's Delhi Games trip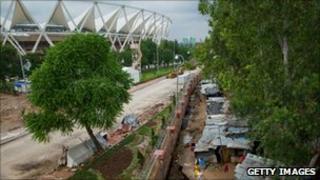 Doubts remain over whether Scotland's athletes will travel to the Commonwealth Games in India.
The Delhi sports event, which runs from 3 to 14 October, has been plagued by criticisms about conditions.
England said they would fly out competitors on Thursday, but Wales said they had not yet decided what to do.
The Scotland team were due to travel at the same time as England but they said they needed further reassurances that facilities were fit for use.
Commonwealth Games Scotland chairman, Michael Cavanagh, said the country remained "hugely committed" to the Games but believed urgent action was required.
He told the BBC: "The village is right now not fit to receive 6,500 athletes, which is due to happen within the next seven days.
"Part of the village is in a very poor condition and a very poor state of maintenance. There have been dogs roaming around the village, the apartments are filthy and there are piles of rubble lying around."
In the troubled build-up to the showpiece, several countries have complained about the accommodation, with some claiming it is "unfit for human habitation", while safety fears were heightened after a section of false ceiling near the weightlifting area of the main stadium fell in on Wednesday.
No injuries were reported and Indian officials said it was "not something to be worried about".
Scotland's first party of 41 athletes and staff in the sports of boxing, rugby sevens and wrestling were set to travel first, but team bosses will now decide on a day-by-day basis when to fly out.
First Minister Alex Salmond has been kept informed with developments.
Following a briefing on Wednesday, the government was told that the Games venues were in a "reasonable order" but there remained "serious health and safety issues" over accommodation at the athletes' village.
Scotland's sports minister Shona Robison said: "We need to see immediate action from the Indian Government and the Commonwealth Games Federation to resolve these concerns, and we are making the strongest possible representations to that effect.
"Our intention is to participate in the 2010 Commonwealth Games, but only on the basis that Team Scotland is housed in a safe and secure environment.
"We continue to monitor this situation closely and will examine every possibility to ensure that our athletes enjoy a magnificent event in Delhi."