Scottish Commonwealth team will travel to Delhi Games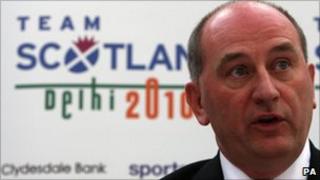 The Scottish Commonwealth Games team has confirmed that its athletes will fly out as planned to Delhi.
The first group was told not to travel earlier this week because of concerns about hygiene and security at the athletes' village.
However, Commonwealth Games Scotland said progress was being made and guarantees had been given that outstanding issues would be resolved.
The first team members will now fly to Delhi on Saturday.
Wales has already announced its athletes will travel to the games as planned, while English athletes who have arrived will not stay in the athletes village, but in a holding camp.
Michael Cavanagh, chairman of Commonwealth Games Scotland, said: "I am delighted that the board has been able to confirm our intention to fly to the Games on Saturday as hoped.
"There will undoubtedly be challenges ahead in Delhi, but we are confident that these can be effectively managed by our team management, who have done a fantastic job over the last week to ensure we could get to this position and we thank them for their unstinting efforts.
"I would like to take this opportunity to thank all our athletes who have remained calm throughout these extremely difficult few days and continued to pledge their commitment to the team."
Sport Minister Shona Robison said she was "delighted" that Scotland would take part in the games and praised the athletes for their "positive attitude during a very challenging time".
She said the Indian minister for sport, MS Gill, had given assurances that action was being taken to address outstanding health and safety concerns over the athletes' village.
"We have accepted the guarantees of the Indian authorities and the Commonwealth Games Federation that these issues are being addressed as a matter of urgency," she added.
Competitors in archery, lawn bowls, shooting, tennis and weightlifting will travel to Delhi on Saturday.
It is hoped that the rugby sevens, boxing and wrestling teams, whose departures were delayed earlier in the week, will travel next Tuesday.
The games are due to begin on 3 October and will run for two weeks.
Lawn bowler Willie Wood said: "I am absolutely delighted to hear that we will be travelling to Delhi tomorrow as planned.
"It's great to see that things have moved on significantly from the start of the week, and I can now focus on competing for Scotland at my eighth Commonwealth Games."