Each teaching post 'chased by 17 applicants'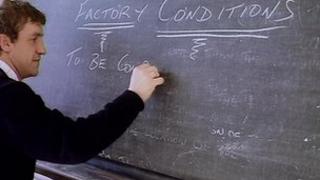 Every teaching vacancy in Scotland is being chased by an average of 17 applicants, according to official figures.
The competition for the posts varied from 49 for each job in Stirling to three per vacancy in Shetland.
The Liberal Democrats, who obtained the details through freedom of information requests, said the figures showed teachers' talents were "being wasted".
Education Secretary Michael Russell said the numbers were "a concern".
In total, 75,579 applications were made for 4,520 vacancies in 2009-10 - an average of about 17 for each position.
The average number of applications per job included 14 in Aberdeenshire, 21 in Dundee, 27 in Edinburgh and six in Glasgow.
Aberdeen City Council said it did not hold the details.
Higher numbers included 47 in Midlothian, 37 in East Renfrewshire and 33 in North Lanarkshire.
Lower averages per job included five in the Western Isles, four in Dumfries and Galloway, five in Orkney and 10 in Moray.
'Reduce competition'
Lib Dem education spokeswoman Margaret Smith said the figures "will be deeply concerning for teachers".
She added: "The SNP said they would maintain the record number of teachers they inherited from the previous executive but teacher numbers are down by 3,000.
"Scotland's young people are also missing out on the opportunity to learn from newly-trained, enthusiastic teachers who have a wealth of talent and skill, being wasted as they struggle to find jobs."
Education Secretary Michael Russell said: "The difficulties faced by teachers looking for a post is a concern.
"Scotland is already unique in guaranteeing a year's employment after graduation from initial teacher education, but we want to do more and we are examining ways we can provide further help.
"While recent figures show that teacher unemployment is lower in Scotland than elsewhere in the UK, we are still working hard to address the issue and have cut student intake, which will reduce competition for jobs."