'Tough' mackerel stance welcomed after talks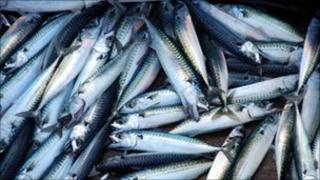 Scottish fishing leaders have welcomed the EC's intention of taking a "tough approach" over the mackerel dispute with Iceland and the Faroe Islands.
The meeting of the EU's agricultural and fisheries council came after a row erupted last month over large quotas.
More talks are planned for 12 October to try to find a resolution.
Ian Gatt, of the Scottish Pelagic Fishermen's Association, said: "We are pleased that they [the EC] seem to be adopting a tough stance."
Scottish fisheries secretary Richard Lochhead was the lead UK minister at the talks.
Initially it was thought he would not have the opportunity to speak because that duty fell under the remit of UK Farming Minister Jim Paice.
But First Minister Alex Salmond contacted Prime Minister David Cameron, and Mr Lochhead was able to speak.
Speaking in Brussels, Mr Lochhead said: "Europe sent out a powerful message to Iceland and the Faroes that their irresponsible decision to set massive unilateral mackerel quotas outwith international agreements will not be tolerated."
Iceland and the Faroe Islands unilaterally declared large catch quotas for the valuable fish, which Scottish skippers claim could damage its sustainability.