Business rates appeal deadline imminent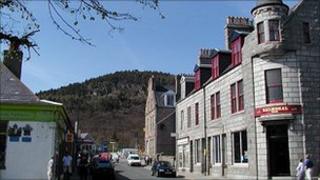 Business owners who feel penalised by changes to rates payments have been reminded to lodge appeals by Thursday.
Enterprise Minister Jim Mather highlighted the deadline before a meeting with businesses in Ballater.
The Aberdeenshire town had been highlighted by Labour's Iain Gray as a high street badly hit by the Scottish government's rates revaluation.
Opposition parties and the Scottish Chambers of Commerce had criticised the abolition of transitional relief.
They claimed it meant worst-hit firms had to face the full force of rates increases in a single year.
At First Minister's Questions in June, Mr Gray had told Alex Salmond that one firm in Ballater faced an increase of more than 400%.
Prior to his meeting in the Royal Deeside town, Mr Mather said the majority of rate-payers in Scotland - almost 60% - were better or no worse off following the revaluation.
He said: "We estimate that more than half of all Scotland's businesses are benefiting from reliefs and discounts worth some £2.4bn over five years - the most generous package in the UK."
He said the Scottish government's Small Business Bonus Scheme removed the rates "burden" for 64,000 firms, equal to almost one-third of all properties.
Small businesses in Aberdeenshire made an increased saving of £1,117 last year, he added.
Mr Mather said: "But, as is always the case when a revaluation takes place, there will of course be businesses who may disagree with the valuation the independent assessor has set for their property, and think their rates bill is too high.
"We have a well established procedure in these circumstances, and I would encourage these businesses, if they have not done so already, to appeal against their valuation before this week's deadline."
'Future proof'
Liz Cameron, chief executive of Scottish Chambers of Commerce, urged the government to "maintain and improve" rates relief.
She said current rates relief packages had shielded some businesses from the full impact of rates revaluation this year.
However, she said rates reliefs needed to be extended over the next five years to protect businesses from future rates shocks.
The Scottish Labour Party called for the reintroduction of transitional relief, and pointed to the 12.5% cap put in place south of the border by the outgoing Labour government.
Meanwhile, the Federation of Small Businesses (FSB) in Scotland has launched a wide-ranging policy discussion paper on the business rates system in Scotland.
FSB's Andy Willox said Scotland needed to build on recent improvements, such as the introduction of the Small Business Bonus.
"Debate so far has revolved around the decisions not to put in place a transitional relief," he said.
"We need to widen the debate ahead of the Scottish Parliamentary election next year."