Repair work to condemned Denny blocks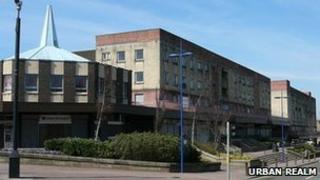 Repairs to a crumbling town centre that residents want to see demolished will begin in October.
Falkirk Council said it needed to carry out a range of essential repairs to the Church Walk blocks in Denny - but hopes to pull them down next year.
Denny residents recently collected the Carbuncle award for the most dismal place in Scotland after asking organisers for the trophy.
Work to revamp the town centre has been delayed repeatedly since 2004.
Falkirk Council put the £15m regeneration of Denny on hold earlier this year because of the recession, but announced in June that a less ambitious plan had been agreed with the developer Henry Boot.
Residents have complained that the town centre looks like "Beirut on a bad day".
They approached the Carbuncle award's organisers after learning no-one wanted to pick up the award on behalf of this year's winners, John O'Groats.
Repairs are due to start on 4 October as the first meetings between the council and all occupiers in the blocks about the regeneration plans are held.
The work, lasting six weeks, includes removing loose roughcasting and re-pointing the outside walls and repairing the steps leading up to the blocks.
'Visible progress'
The shopping area would be kept open, the council said.
The authority hopes the blocks can be demolished next autumn to make way for the regeneration project.
Councillor Dr Alex Waddell, chair of the Denny development group, said: "We have begun meetings with all the occupiers in the Church Walk blocks to discuss their options and the way ahead.
"A detailed planning application will be the next stage and we hope that visible progress towards the new town centre will be evident this time next year."