Accommodation problems persist for Delhi athletes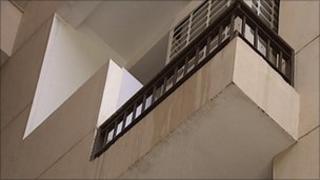 BBC Scotland has seen evidence of ongoing accommodation issues after being invited into the Commonwealth Games athletes' village in Delhi.
Loose wiring and leaky air conditioning units could be seen at Team Scotland's living quarters, along with unfinished kitchens and missing railings.
More than 100 Scottish athletes are already staying at the complex.
Team Scotland said it was largely satisfied with its area but voiced concerns about other blocks.
Games organisers have warned that the athletes' village will not be fully completed until Wednesday.
Team Scotland had delayed its arrival in Delhi until Saturday after Commonwealth Games Scotland chairman Michael Cavanagh said the accommodation facilities were unfit for human habitation.
More than 7,000 athletes and officials are due to stay at the site for the duration of the Games, which are due to begin on 3 October.
On Tuesday morning, BBC Scotland correspondent Kevin Keane was invited into the area where Scottish athletes have been staying for two nights.
"As we entered, water was pouring into the central concourse from a leaking air conditioning unit two floors up," he said.
"Inside, bare wiring hangs from the ceilings of the apartments The kitchens are out of bounds, unfinished.
"And there are some internal balcony areas without railings."
He added that Team Scotland's greatest concerns were for the facilities of other athletes who had yet to arrive at the site.
He said that some parts of the complex remained "no-go areas".
Only a few of the 71 nations have so far checked into the games village.
More than 17,000 staff have been employed to ensure the security of the Games, including 63 guards with automatic weapons who will guard the Glasgow delegation.