Scots anti-depressant use rising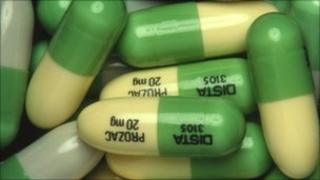 More people in Scotland are using anti-depressants, the latest figures have suggested.
The Scottish government statistics showed a 7% increase in daily use of the drugs in the past year.
The largest rise was seen in Shetland, where there was a 10% increase in the numbers using the treatment.
The figures also showed a 4% rise in the number of all prescriptions dispensed, with costs up from £1.07bn in 2008-09 to £1.11bn in 2009-10.
The rise in anti-depressant use comes despite a Scottish government pledge to reduce it.
The SNP had pledged in their manifesto to reduce the yearly increase in anti-depressants to zero by 2009 and bring it down by 10% a year after that.
The Liberal Democrats accused the SNP of breaking its promise and said Health Secretary Nicola Sturgeon needed to "get a grip of the situation".
The party's public health spokesperson Jamie Stone said drugs were not the "only solution" to mental health problems.
'Structured counselling'
He said: "We need to be confident that doctors have the time to explore alternatives to anti-depressants before reaching for the prescription pad.
"We also need assurances that there are adequate mental health services in the community. GPs need to be confident that they can refer patients for specialised community support in their own area."
Labour health spokesman Dr Richard Simpson said: "The SNP government promised to stabilise the prescription of anti-depressants but they have failed to do so and numbers continue to rise.
"I know from my experience as a doctor that mental illness can be devastating for those who experience it.
"However, for all but severely affected patients, the daily use of drugs should be a last resort and we need to make much more use of alternative treatments such as cognitive behavioural therapy, which is a form of structured counselling."
While Shetland saw the largest increase in anti-depressant use, NHS Dumfries and Galloway reported the lowest increase at 5.5% in the past year.
Public Heath Minister Shona Robison said: "The prevalence of depression recorded on the Quality Outcome Framework has increased over the past three years.
"The level of diagnosis is in line with that reported in the Scottish Health Survey. This suggests that GPs are effectively diagnosing depression.
"The level of prescription of anti-depressants has increased over the past three years.
"The HEAT target to reduce the level of increase in prescribing anti-depressants has driven a much better understanding of the issues that impact on the increase in anti-depressant prescribing across Scotland."