Most Scottish A&E asthma trips 'avoidable'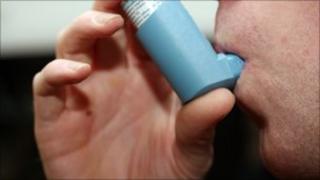 Three quarters of hospital admissions due to asthma would be avoidable if the condition was managed properly, according to a charity.
Asthma UK Scotland has published figures which showed 6,000 people go to accident and emergency each year after suffering an asthma attack.
It said there had been no improvement for a decade, costing the NHS £100m.
The charity, which has published a new guide for people with asthma, said new approaches were urgently needed.
It has urged people with asthma to follow guidelines on proper care, and has asked health boards to review how they monitor asthma in the community.
Asthma UK Scotland said the cost of an emergency admission was three and a half times more that the cost of treating somebody in primary care, and amounted to more than £10m a year.
The charity's director, Gordon Brown, told BBC Radio Scotland's Good Morning Scotland programme that a number of people needed to be involved in managing the condition not least the person with asthma themselves.
He said: "The underlying message is a dialogue, a dialogue between health professionals, people with asthma and hopefully sharing the burden of care."