Bill aims to end forced marriages in Scotland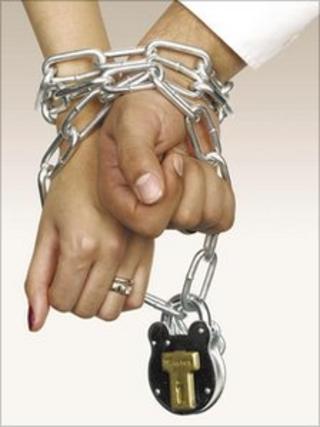 Ministers have unveiled proposals which they say will help consign forced marriages to the "history books".
The bill would, for the first time in the UK, make it a criminal offence to breach laws protecting people from being forced into getting wed against their will in Scotland.
Breaking the proposed laws could lead to a prison sentence of up to two years, a fine, or both.
The bill would enable courts to issue forced marriage protection orders.
Those at risk, or anyone worried about someone's welfare, would be able to apply for an order, which could ensure people were taken to a place of safety or help those in danger of being taken abroad for marriage.
Courts will also be able to tailor sanctions and support to the person's particular circumstances and existing powers to annul a forced marriage will be reformed to make the process easier.
Deputy First Minister Nicola Sturgeon revealed details of the legislation during a visit to the Shakti Women's Aid in Edinburgh, where support workers provide help and assistance to young people who risk being forced into marriage.
She said: "Forced marriage has no place in 21st Century Scotland. We know people who refuse are often subjected to threats, assault, captivity or worse at the hands of their own family.
"This important bill will help confine this abusive behaviour to the history books, providing flexible legal support to allow victims to take control and get their lives back on track.
"And Scotland is leading the way in ensuring that anyone who flouts a protection order - and anyone aiding or abetting them - will feel the full force of the law."
Bill welcomed
Elaine McLaughlin, from Hemat Gryffe Women's Aid in Glasgow, said: "The Scottish government is to be commended for confronting a unique, anxious and difficult cultural situation which affects many young Scots."
The bill is one of 10 that First Minister Alex Salmond said his SNP administration would bring forward before next May's Holyrood election.
Johann Lamont, Scottish Labour's spokeswoman on equalities, said: "Forced marriage is a distinct problem which must be challenged and that is why we welcome this bill.
"We will work with all parties to ensure that this bill goes through parliament as soon as possible."
Liberal Democrat Equalities spokesman Hugh O'Donnell MSP said: "These measures for protecting those forced against their will into marriage or those already in a forced marriage are long overdue.
"Forced marriage affects people of many backgrounds, race and religion and is often cloaked by cultural tolerance making it very difficult for victims to get the help they need.
"This bill will be scrutinised by the equal opportunities committee, which I sit on, and I sincerely hope that this legislation will be implemented by parliament."
Criminal charges
The Scottish Islamic Foundation welcomed the move but queried why the option of criminal charges against those forcing marriage had not been taken forward in the proposed legislation.
Chairman Asif Ahmed said: "Our position has been that while forced marriages are small in number and on the decline, they would go away faster with legislation to deal with them. We therefore welcome this step and the message it sends.
"Forced marriages are not sanctioned by any faith. Islam is clear that a valid marriage requires the full consent of both parties. To force anyone into it is a grave injustice which should be battled against by all people of faith.
"When making our original call over two years ago we said that the option of criminality should be on the table in dealing with perpetrators if the victim wishes. Today's bill indicates only civil action and we look forward to hearing the rationale for that."