Dropping primetime tv drama sparks debate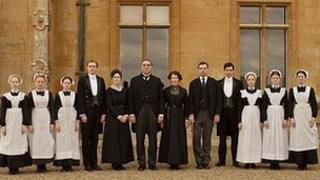 Disappointment by some at STV's decision to drop a prestigious drama series show how challenging it can be for any business to treat Scotland in isolation.
For more than a year STV has regularly dropped some of the ITV network's most popular programmes - notably dramas such as the Midsomer Murders and Doc Martin as well as the FA Cup.
The story had seemed like old news.
STV and ITV were becoming distinct channels.
STV pointed to rising profits and a volume of Scottish production unseen for years.
For people in the Scottish broadcasting industry it was no big surprise when STV decided not to show ITV1's landmark costume drama Downton Abbey.
Wider challenge
But the decision to blank the programme - hailed by critics as a series of exceptional quality - appears to have caught the public imagination, at least judging by the letters pages of some newspapers.
On Sunday night STV broadcast an old documentary in place of the widely anticipated opening episode of the series, which stars Dame Maggie Smith.
However this week STV believes its viewers are in for a real treat - the start of a new series of Taggart which, for the first time, is being screened in Scotland before viewers in the rest of the UK get a chance to see it.
If STV has faced a fresh round of criticism this week, it may be a symptom of a wider challenge.
It is increasingly difficult for anyone to treat Scotland as an isolated market.
Thousands in Scotland knew about Downton Abbey. It is an upmarket programme aimed at discerning viewers.
They knew about it through information which was not actively aimed at people in Scotland but which they received anyway.
Downton Abbey was featured heavily in the upmarket television magazine Radio Times along with UK newspapers with large middle-class readerships in Scotland such as the Daily Mail and the Sunday Times.
BBC1's Breakfast programme interviewed the stars and ran a clip.
ITV1 also bought advertising space in a number of UK-wide newspapers.
STV believes it made the right decision to drop the programme, arguing costume drama does not rate so well in Scotland as it does south of the border.
It may be right - but it soon became clear that bonnets were rattled amongst those in Scotland who did want to tune in.
Many of the people likely to want to watch a programme like Downton Abbey knew all about it and when they found out that STV wasn't showing the series, they were left disappointed.
The irony is that until the mid 90s, ITV schedules varied wildly across the UK.
User know-how
But few had any idea what was being shown in other regions.
One difference now is that changes in the communications industry make it more likely that consumers will find out about all kinds of products and services which are not readily available where they live.
There are several different factors: the internet, UK-wide digital television channels, and the fact that UK-wide newspapers (some with Scottish editions) now account for a substantial proportion of the Scottish market.
For instance, the Halifax brand is no longer seen on high streets banks in Scotland.
But many in Scotland will have seen Halifax's cheesy ads where staff pretend they are local radio DJs.
That's because they have been screened on UK-wide channels where Scotland cannot be treated as a discreet market.
A more serious problem involved the Scottish Society for the Prevention of Cruelty to Animals.
It has long had to work hard to ensure people in Scotland realised it was an entirely separate organisation from the RSPCA south of the border.
So when RSPCA ads appeared on some Scottish local radio stations, the SSPCA was angry and upset.
It turned out the ads had been booked by accident as part of a UK-wide deal between an advertising agency and the stations' parent company.
With television, the same principles increasingly apply - a programme may not be getting shown by a Scottish broadcaster but people in Scotland will find out about it.
Positive case
The Downton Abbey "storm" also means that a simple - but previously little publicised - method of watching all the ITV1 network output in the STV region has been cast into the open.
The Radio Times spelled it out. ITV1 London can be seen in the STV region on Sky 993, Virgin 853 and Freesat 977.
Viewers with Freeview don't have a similar option.
Letters to the Daily Mail, the Daily Express and The Herald have also made this point (satellite viewers in Scotland also have the option of watching all the other versions of BBC1 and BBC2 while cable carries the network, Welsh and Northern Irish versions of BBC1 as well as BBC1 Scotland).
Scottish companies can make a valid, positive case for their products to Scottish consumers.
But - even where there are important contractual considerations as with STV and ITV - in practice today's consumers are savvy enough to find the products available elsewhere if they want them.