Relations 'harmed' over senate Lockerbie investigation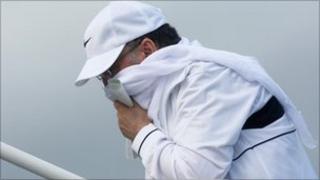 The Scottish government was warned US-UK relations would continue to be harmed if permission was refused to talk to the doctors who treated the Lockerbie bomber Abdelbaset al Megrahi.
In correspondence seen by the BBC, Scottish officials said they were unable to set up the meetings and also rejected a plea for a senate investigator to interview civil servants on a one-to-one basis.
A congressional committee, chaired by Senator Robert Menendez of New Jersey, is looking into whether the Libyan's release on compassionate grounds on 20 August 2009 was linked to a BP Oil deal - an allegation strongly denied by both UK and Scottish governments.
Megrahi was freed by Scottish Justice Secretary Kenny MacAskill after he was diagnosed with terminal prostate cancer.
The exchange of e-mails followed a meeting in Edinburgh on 17 September between the lead investigator working on behalf of Senator Menendez and George Burgess, former deputy director of criminal law and licensing.
'New treatment'
Mr Burgess was closely involved in the release of Megrahi.
Also there were Kevin Pringle, Alex Salmond's senior special advisor, and two other Scottish civil servants along with a representative from the US embassy in London.
An aide to the senator who is familiar with what happened said: "Burgess confirmed that al-Megrahi received chemotherapy in July 2009. That is a first.
"To date, we only knew that he had received a "new treatment" in July of 2009.
"The significance of this is very important.
"First, al-Megrahi claimed in documents in both July and August 2009 that he had not received chemotherapy, only exploring the possibility.
"This is now confirmed to be a lie."
The senate aide said this was particularly significant because it indicated that Megrahi's cancer was still treatable just weeks before he was allowed home to die.
He continued: "We now have confirmation that Scottish officials knew Al-Megrahi started a course of chemotherapy.
"I think we can prove that they knew chemotherapy was not palliative in nature but was designed to extend his life."
Senator Menendez's office insists they were told by Mr Burgess the prognosis that Megrahi had a reasonable life expectancy of three months or less wasn't given by a specialist but a GP - prison doctor Peter Kay.
This is important because a three-month life expectancy is one of the conditions for compassionate release.
"Burgess confirmed that Dr Peter Kay made the prognosis that Al-Megrahi would likely die within three months. This is a first."
It's claimed at this point the first minister's senior adviser, Kevin Pringle, intervened.
"Pringle was very uncomfortable after Burgess made this statement and instead insisted that Dr Fraser (director of health and care at the Scottish Prison Service) had made the prognosis.
"Moreover, Dr Fraser had allegedly done so only after considering all of the specialists and GP feedback. Burgess then became nervous and tried to retract what he had said."
'Complete nonsense'
The Scottish government described both these claims as complete nonsense and has written to the senate committee to express its extreme disappointment.
A spokesman also pointed out that the investigator made no notes during the meeting.
A statement said: "The senator's staffer has got both these issues entirely wrong, and the senate committee is misinformed.
"As has been stated many times, and was said several times at the meeting between Scottish Government officials and the staffer earlier this month, the advice to the justice secretary came from Dr Andrew Fraser, director of health and care of the Scottish Prison Service, and the prognosis was his.
"It was Dr Fraser's responsibility to prepare the medical report for Mr MacAskill, and Dr Fraser who concluded that his clinical assessment was that a three-month prognosis was a reasonable estimate, drawing on the work of a range of specialists and other Scottish health service professionals involved in Megrahi's care from when he was first diagnosed with cancer in 2008."
But the senator's office have a different assessment.
"Pringle was the Scottish government's "minder," sent unannounced to make sure Burgess didn't say too much; Burgess was clearly nervous. And clearly knows more.
"Had I been alone with him or without Pringle, he would have talked: They contradicted themselves repeatedly and made illogical statements/conclusions that were almost laughable if the circumstances weren't so serious."
Following the meeting on 17 September, there was an exchange of e-mails between the American investigator and Scottish government officials.
The investigator wanted to hold private meetings with the six doctors who had treated Megrahi.
He writes to Mr Pringle: "My preference would be to meet with the aforementioned individually."
Warning issued
He then offered to rearrange his return to Washington DC to allow the meetings to take place.
"If I can get authoritative answers to the outstanding medical concerns, I can wrap up my work and we can at last remove both lingering doubts and, ultimately, an irritant in US - UK relations."
A response arrived on 21 September from senior Scottish justice official Nikki Brown: "The provision of medical care to Mr Megrahi which was reflected in Dr Fraser's report to the cabinet secretary was not a process within the remit of the Scottish government, and I am not therefore in a position to commit the medical practitioners involved."
Ms Brown also rules out any further meetings with Scottish government officials.
"We do not believe that a further discussion would serve any purpose."
In his reply, the investigator issues a warning.
"The absence of information and finality surrounding the medical prognosis has led to confusion and speculation. I fear that your decision means that such will remain the case and, indeed, grow louder and more pronounced. Sens Menendez et al cannot wrap up their inquiry until I come to a better understanding on the medical portion of Mr al-Megrahi's release. Consequently, relations will continue to sour."
Senators held a one-day hearing on 29 September and say they will issue a report on their findings.
A Scottish Parliament investigation into the release of Megrahi criticised Kenny MacAskill's handling of the case but concluded his decision had been made in "good faith".