Scotland given Games ceremony assurances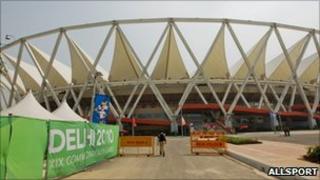 Commonwealth Games organisers in Delhi have agreed to allow athletes to leave before the end of the opening ceremony.
Team Scotland had raised concerns that athletes were being forced to sit through the full three hour event when they should be resting.
The Commonwealth Games Federation has now met the organising committee and said arrangements had been made to allow the athletes to leave.
Delhi has suffered a number of setbacks ahead of the opening of the Games.
In the latest development, Team Scotland had said it was reviewing its involvement in the opening ceremony of the Commonwealth Games in Delhi.
Scotland was one of several teams who were unhappy with initial demands that athletes stay for the entire three-hour ceremony on Sunday, rather than resting.
Earlier the chef de mission, Jon Doig, said he was seeking clarification from the organisers.
He said: "We want to be there. We just need to seek clarification on timings."
The organisers had initially told all participating nations that their athletes would have to remain in the Jawaharlal Nehru Stadium for the whole event.
Usually competitors would only be required to take part in a bit of the ceremony.
'Ready for competition'
Before deciding on whether Team Scotland athletes would be involved, or to what extent, Mr Doig and the heads of some other teams sought clarification from the authorities.
"We raised this with the organising committee this morning - we're clarifying some of the timings," he said.
"The athletes need to leave the games village, go to the opening ceremony and get back again, so they can compete the next day.
"So the thing we've been talking about this morning is the timings; when people are expected to leave, when they arrive at the opening ceremony and when they can get back - so they can get fed and get ready for competition in the next couple of days.
"We've had different feedback from different people so I've asked them to follow up on that."
The organising committee has since said arrangements had now been made to allow the athletes to leave.
'Pretty disappointed'
Scots badminton player Susan Egelstaff said that she and her team-mates would be absent from Sunday's opening ceremony.
"Unfortunately, we're playing the next day," she explained. "I'm lucky that I've had one opening ceremony but the other guys have never been, so they are pretty disappointed.
"But it's so tiring. You are out of the village for seven or eight hours and it can take so much out of you.
"I don't think anyone who is competing the next day will be going. It's too much of a risk. It could have a big impact on your performance."