Salmond in Scottish business finance call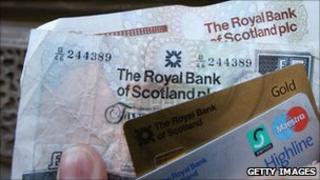 Alex Salmond has called on the UK government to act quickly to ensure banks lend money to small businesses.
In a letter to Business Secretary Vince Cable, the first minister said a lack of lending was having a severe impact on Scottish firms.
In February the Federation of Small Businesses (FSB) in Scotland said many small firms had been forced to dip into their own savings over the past year.
Mr Salmond called on the coalition government to take "decisive action".
Savings raided
Mr Salmond wrote: "Our small and medium-sized companies are the bedrock of the Scottish economy and employ around one million people right across the country.
"Their growth and future success are central to our economic prosperity.
"I, therefore, welcome your recent comments that more needs to be done to ensure that banks support the recovery.
"However, it is decisive action that is required."
The FSB report found that 48% of businesses did not borrow any money in the last 12 months while 47% reported a drop in profits.
Also, 48% of members in Scotland used a bank overdraft to survive, 38% raided their savings, 31% used their retained profits and 22% relied on credit cards.
Mr Salmond said it was "imperative" that urgent measures were put in place to increase the flow of affordable finance.
'Range of products'
He wrote: "Previous requirements on bank lending have not proved sufficient and a more targeted and robust approach is required.
"Within this it is vital that such action considers not just the level and affordability of finance, but also the range and scope of products being offered by banks."
Mr Salmond said it was crucial that such measures had an opportunity to have a positive effect before the reductions in public spending fed through to the economy.
Mr Salmond, who held talks with Mr Cable in Edinburgh in June, repeated the Scottish government's concerns that the coalition's planned spending cuts were "too fast and too deep" and would come at a time when the economy was at its most fragile.